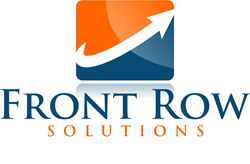 (PRWEB) September 19, 2017
72 percent of CRM customers indicated they would trade functionality for ease of use.
Front Row Solutions (FRS) announced today that it has significantly improved the integration capability, functionality and security of its class-leading CRM platform, which is available for mobile devices (iOS and Android), and via desktop client over the web.
Through a streamlined and user-friendly interface, Front Row Solutions gives management and mobile workers an immediate overview of productivity, activity and performance. This real-time business intelligence is used to improve efficiency and effectiveness at both individual and team levels, establish best practices, monitor and enforce compliance, drive strategic planning, optimize resources, and more.
The latest version now features extensive improvements to the platform's API and web services, which supports faster and more secure integrations. Key areas of improvement include:
New Integrations: Front Row Solutions now seamlessly integrates with a wide range of SaaS solutions, including most CRM and ERP platforms.
New Integration Team: Front Row Solutions has established a new team that is dedicated to integration-related strategies and improvements. The team is led by an integration specialist, and includes operations personnel, app specialists, security analysts and programmers.
New Security Enhancements: Front Row Solutions has enhanced its security package with industry-leading technology that encrypts data-in-motion and data-at-rest. To date, the platform has passed scheduled and unscheduled PEN tests by some of the worlds leading pharmaceutical and financial institutions.
New Financial Package: Front Row Solutions has created a new financial package to help organizations integrate the platform at a lower price point, and with a faster deployment schedule that does not trigger disruptions or down time for legacy systems (e.g. Salesforce).
Commented Etien D'Hollander, President of Front Row Solutions: "There are many good CRM systems in the marketplace, but most of them are weak in two critical areas: usability and integration. Our platform has always led the way on usability, because we deeply understand what mobile workers and management teams need to succeed. Studies show that 72 percent of CRM customers indicated they would trade functionality for ease of use."
Continued D'Hollander: Now, based on consultations with our customers, we have made it even simpler, faster and safer for organizations to integrate Front Row Solutions with their legacy systems, and ensure that their customer-facing workforce accesses the reliable, real-time business intelligence they need to do what matters most: drive customer experience, shorten sales cycles, increase deal sizes, and boost win rates."
Front Row Solutions engages with mobile workers, improves information flow from the field and enables management to make more informed business decisions. For more information or to set up a free trial call Front Row at 1-800-986-0983, or visit the Front Row web site at. http://www.frontrowsolutions.com
About Front Row Solutions
Front Row Solutions (FRS) a North American company, was founded in 2008 to improve the Customer Relationship Management (CRM) process with a focus on the mobile worker and mobile data collection. The prime directives around the creation of FRS was ease and speed of use, 100% mobility, improved mobile worker productivity and increased information flow from the field. FRS is a customizable app based system which can be loaded on any smart phone or tablet and allows a mobile worker to submit a report or form immediately after a customer interaction in 60 seconds or less. FRS' unique real-time paperless reporting capability (with optional geo location tracking) gives management better reports and insight into all mobile worker and client activity. FRS can be used as a standalone system or it can be integrated into current legacy CRM or ERP systems, effectively becoming the front end of some not so user-friendly systems.