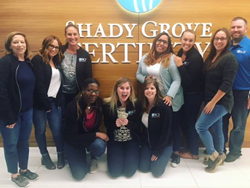 For the physicians and staff of Shady Grove Fertility, helping build families is at the core of what this practice is all about. What inspires us is that the grit and resilience that we see every day in our patients is also evident in the families and first responders affected by Hurricane Harvey
Rockville, MD (PRWEB) September 14, 2017
Shady Grove Fertility, the nation's largest fertility center with more babies born than any other center in the United States, rallied the support of physicians and team members to support the local hurricane relief efforts operating through The Warren Center in North Dallas. Raising more than $6,000 and counting, physician and staff donations made it possible to send an assortment of nearly 5,100 essentials to the affected regions—essentials such as baby formula, diapers, children's clothing, toiletries, and more.
SGF Patient Financial Services team member, Maria Patswald, whose family was among those affected in a hard-hit region, "To me, this is what Shady Grove Fertility is about. I'm so proud to be a part of the SGF family."
Shady Grove Fertility sent the essential supplies via Amazon Prime, which included free shipping, for immediate deployment, meaning 100 percent of the money collected went toward the cost of supplies.
Tori Wilkinson, a Clinical Coordinator in SGF's Rockville, MD office, added, "At Shady Grove Fertility, we don't just make families, we help them too."
"For the physicians and staff of Shady Grove Fertility, helping build families is at the core of what this practice is all about. Supporting these relief efforts provided us an opportunity to help rebuild all that the families of Texas have lost. What inspires us is that the grit and resilience that we see every day in our patients is also evident in the families and first responders affected by Hurricane Harvey," said Jason Bromer, M.D., of Shady Grove Fertility's Frederick and Hagerstown, MD offices.
Additional fundraisers are in the works to assist the families in Florida.
To learn more about Shady Grove Fertility's philanthropic efforts, or to schedule an appointment with an SGF physician to discuss how SGF can help build your family, call 1-888-761-1967 or visit https://www.shadygrovefertility.com/appointment.
About Shady Grove Fertility
Shady Grove Fertility is a leading fertility and IVF center of excellence offering patients individualized care, innovative financial options, and pregnancy rates among the highest of all national centers. 2017 commemorates more than 25 years of Shady Grove Fertility providing medical and service excellence to patients from all 50 states and 35 countries around the world, including its newest expansion to Santiago, Chile in July 2017. Today, with 41 physicians supported by a highly specialized team of more than 750 Ph.D. scientists, geneticists, and staff caring for patients in 28 offices throughout Maryland, Pennsylvania, Virginia, Georgia, and Washington, D.C., we celebrate over 40,000 babies born—more than any other center in the United States. Shady Grove Fertility physicians actively train residents and reproductive endocrinology fellows and invest in continuous clinical research and education to advance the field of reproductive medicine through numerous academic appointments and partnerships such as Georgetown Medical School, Walter Reed National Military Medical Center, the University of Maryland, and the National Institutes of Health. Nearly 2,000 physicians refer their patients to Shady Grove Fertility each year. For more information, call 1-888-761-1967 or visit ShadyGroveFertility.com.