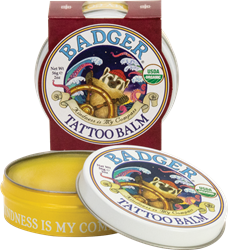 We're excited to finally be able to offer tattoo aftercare made with the finest natural and organic ingredients Mother Nature has to offer. This product is the first of its kind. It's an honor to be a NEXTY finalist
Gilsum, New Hampshire (PRWEB) September 14, 2017
Shining a spotlight on innovative products that move the natural product industry forward, the twice-annual NEXTY Awards recently announced Badger's new Tattoo Balm as a finalist in the Best New Transparently Sourced Product category. A soothing aftercare balm with skin-nourishing Tamanu and Coconut oils, Tattoo Balm is the first certified organic, certified gluten-free, and fair trade certified balm available for use on new or existing tattoos. NEXTY winners remain a secret until learning their fate on Friday, Sept. 15, right on the show floor at Natural Products Expo East, at the Baltimore Convention Center in Baltimore, MD.
Since its debut in 2011, the NEXTY Awards have grown to become the premier recognition bestowed upon companies in the natural products industry. This year, Badger is among 66 companies (out of 420 nominations) selected as finalists by a panel of industry experts, along with editors of New Hope Network, producer of Natural Products Expo East.
"Badger employees and customers have been asking us for years to make a tattoo balm. So we're excited to finally be able to offer aftercare made with the finest natural and organic ingredients Mother Nature has to offer. This product is the first of its kind," says Deirdre Fitzgerald, Marketing & PR Manager at Badger. "It's an honor to be a NEXTY finalist along with so many inspiring companies and products that represent the best (and future) of the natural products industry."
According to sources such as the Pew Research Center and The Harris Poll, more and more Americans are getting tattoos. About three in ten Americans (29%) have at least one tattoo, up from roughly two in ten (21%) in 2012, and nearly half of Millennials (47%) and over a third of Gen Xers (36%) say they have at least one. And among those with any tattoos, 69% have two or more.
At Expo East, Badger will also launch its newly reformulated and resized fair trade certified Mineral Lip Tints, available in Rose Tourmaline, Red Jasper, Garnet and Opal Shimmer. Tints offer sheer coverage or buildable color, and the shimmer stays true to the natural lip color, adding just a hint of shine.
Both the Tattoo Balm and Mineral Lip Tints can be bought online, in stores, and at major retailers such as Whole Foods, Sprouts, and Earth Fare as well as independent food co-ops and pharmacies. Tattoo Balm comes in a 2-ounce recyclable tin and has a suggested retail price of $9.99. Mineral Lip Tints come in 0.15-ounce sticks with a suggested retail price of $4.99.
Badger's full line of over one hundred personal care products, including its new tattoo aftercare and mineral lip tints, will be showcased at Natural Products Expo East (Booth #2617) Thursday, Sept. 14 – Saturday, Sept. 16, 2017.
About Badger
Badger is a family run and family-friendly company that has been making healthy products for people and the planet since 1995. Badger was born when Badger Bill, a carpenter at the time, created a recipe of natural ingredients strong enough to soothe his rough, dry, cracked hands. Now a team of over 100 employees, Badger produces almost all of its products in Gilsum, N.H. Inherent in Badger's DNA is its status as a B Corp, a certification earned through B Lab, a third party non-profit that requires companies to meet rigorous standards of transparency as well as environmental and social performance. Badger has been a certified B Corp since 2011 and in 2015 became one of New Hampshire's first businesses to register legally as a Benefit Corporation, a for-profit status that incorporates the pursuit of positive environmental and social impact in addition to profit. For more information, please visit http://www.badgerbalm.com