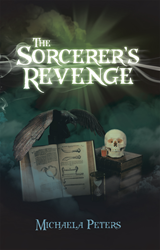 TORONTO (PRWEB) September 18, 2017
Stemming from her background as an educator, author Michaela Peters wrote a fantasy novel directed to the young adult demographic in "The Sorcerer's Revenge."
Necros, a sorcerer and only son of the king, wants nothing more than to have revenge on the city of Amuron. However, a spirit forces Necros into banishment and relinquishes his power, preventing him from beginning his vengeful mission until he convinces the future rightful heir to the throne, Prince Naibor, to turn against his beliefs.
"I wrote this book because when I was growing up, there were no novels of this kind for young adults, just books for adults or children," said Peters. "I wanted to write something more appropriate for this age group that could also appeal to adults and some advanced pre-teen readers."
In this thrilling fantasy tale, a prince, a group of talking animals, and an evil sorcerer battle for their lives as the fate of a city lies in peril.
"The Sorcerer's Revenge"
By Michaela Peters
ISBN: 9781532015519 (hardback); 9781532015496 (paperback); 9781532015502 (eBook)
Available on iUniverse, Barnes & Noble and Amazon
About the author
Michaela Peters has been a child educator for more than 25 years. She is also recognized by iUniverse as a Rising Star for her published work. Peters has one daughter and two dogs and happily lives in a small town in southern Ontario. Learn more at http://www.michaelapetersbooks.com.
###
Review Copies & Interview Requests:
LAVIDGE – Phoenix
Bryan Beach
480-306-6554
bbeach(at)lavidge(dot)com
General Inquiries:
LAVIDGE – Phoenix
Chris Peña
480-306-7065
cpena(at)lavidge(dot)com