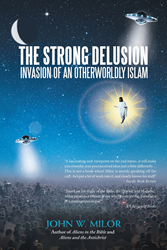 FRESNO (PRWEB) September 18, 2017
John Milor has written a work based on the Bible telling of a powerful deception that will overshadow the Earth, a deception so intense that only those with a genuine love relationship with God will be able to endure it in "The Strong Delusion."
Incorporating events from his own life in context to this strong delusion, including a series of supernatural encounters, Milor believes that these key components will initiate a grand display of open contact with extraterrestrials.
"These events are my inspiration, and my years in the military and years of college also help when it comes to having the discipline and tenacity to research and write books," said Milor. "My central theme in this book is exposing the Strong Delusion of 2 Thessalonians 2:11 before the day of Public Disclosure or Open Contact, so when that day comes (if it comes), Christians and others will be prepared for it."
These and other topics harken to ancient times and peer into a not-too-distant future, when the author believes we will see a return to the days of Noah, as prophesied by Jesus.
"The Strong Delusion"
By John Milor
ISBN: 9781532014444 (softcover); 9781532014451 (eBook)
Available at the iUniverse Online Bookstore, Amazon, and Barnes & Noble
About the author
John Milor, an author and speaker who explores paranormal phenomena from a biblical perspective, has written several books, including "The Eaglestar Prophecy," "Aliens in the Bible," "Aliens and the Antichrist", and "X-Phenomenon," as well as articles in a variety of publications. He has made guest appearances on radio talk shows and holds several academic degrees. To learn more, please visit http://www.thestrongdelusion.net.
###
Review Copies & Interview Requests:
LAVIDGE – Phoenix
Bryan Beach
480-306-6554
bbeach(at)lavidge(dot)com
General Inquiries:
LAVIDGE – Phoenix
Chris Peña
480-306-7065
cpena(at)lavidge(dot)com