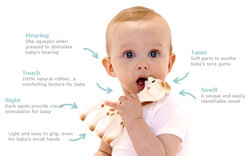 "Sophie appeals to all 5 senses of the developing baby. And that is where Sophie is absolutely perfect for teething babies." - Dr. Orlena Kerek, Pediatric Physician, Bristol University
San Marcos, CA (PRWEB) September 18, 2017
In the age of digital media, limiting screen time among infants and toddlers can be challenging- especially when these types of distractions are readily available and a convenient way to soothe fussy children.
According to a recent study, parents may want to start cutting back even further or make the switch to sensory development toys completely.
The study, entitled "Is handheld screen time use associated with language delay in infants?", looked at children between the ages of 6 months and 2 years who use handheld screens—smartphones, tablets, and electronic games—for an average of 28 minutes a day.
The study reported that the more handheld screen time a child had during the day, the more likely he or she was to have delays in expressive speech.
In lieu of touch screen devices and television, consumers should instead introduce toys that help with children's sensory development rather than overwhelming it.
Different ages respond better to different toys.

Infants – It's best to keep things simple. The classic Sophie la girafe Teether is specially designed to gently stimulate each of their 5 senses while teaching cognitive lessons like cause-and-effect (a squeeze results in a squeak).
Toddlers – Busy Boards engage toddlers' curiosity and work on their motor skills as they open doors, pull levers, ring bells, and more.
Preschoolers – For this age range, 3D labyrinth toys that challenge their hand eye coordination can keep them occupied and fascinated for long stretches of time.
While it will come as a challenge at first, parents may just find that cutting out screen time will send their children's imaginations soaring.
About Sophie la girafe
Sophie la girafe is a beloved children's brand that was born in Rumilly, France in 1961. It made its US debut in 2000, when French expatriate Hélène Dumoulin-Montgomery longed to share her favorite childhood toy with her new baby girl. Her company, Calisson Inc., is now the sole US distributor of Sophie la girafe early development learning toys, teethers, and new feeding bottles.
Leah J. Cybulski
Senior Public Relations Project Manager
ChicExecs Brand Strategy
820 Los Vallecitos Blvd Ste A-C
San Marcos, CA 92069