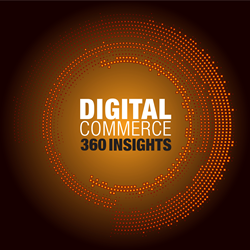 Chicago, IL (PRWEB) September 15, 2017
Vertical Web Media, the publisher of Internet Retailer, B2BecNews and Internet Health Management, is proud to announce the launch of Digital Commerce 360 Insights, a podcast series that dissects how the internet is revolutionizing commerce.
The Digital Commerce 360 Insights podcast combines data insights with analysis digital executives can apply to their own businesses, and includes interviews with executives from the e-retail, healthcare and B2B industries, along with Vertical Web Media's editorial team.
"With the Digital Commerce 360 Insights podcast, we are engaging with the digital industry and sharing its pioneering commerce strategies," says Molly Love, CEO of Vertical Web Media. "It is the same approach we've taken to covering the industry for the past 20 years online and in print, and with the podcast we will share our analysis with our audience through yet another format and, hopefully, develop our audience reach."
The complete archive of Digital Commerce 360 Insights podcast episodes is available at http://www.digitalcommerce360.com/type/podcast. Listeners can also find and subscribe to the Digital Commerce 360 Insights podcast on iTunes, Stitcher and Google Play. Episodes are added weekly.
Recent episodes include a look at Amazon.com Inc.'s acquisition of Whole Foods Market, a Q&A with Mac & Mia founder and CEO Marie Tillman, a discussion on the increasing dominance of online marketplaces in global e-retailing, and an insider's view on how digital technology providers are migrating their go-to-market strategies to service the healthcare industry.
For information, contact: Allison Enright, editor and podcast producer, at 312.572.6252 or allison(at)verticalwebmedia.com.
About Vertical Web Media
Vertical Web Media provides business intelligence for the e-commerce market and highly internet-dependent businesses. Starting with Internet Retailer magazine, VWM has developed numerous digital (Internet Health Management Management and B2B E-Commerce World) and print publications, websites and interactive database products (Top500Guide.com) that deliver in-depth information, analysis and competitive research on major vertical markets being profoundly impacted by internet practices and technologies. Complete access to the company's editorial coverage can be found at http://www.DigitalCommerce360.com.