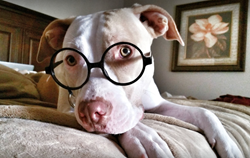 "We now have growing social proof that this is a valid concept and market enthusiasm has been over-the-top."
Paradise Valley, Ariz. (PRWEB) September 16, 2017
Social media influencer Stella the Pit Bull, @IncrediBullStella, has created a campaign to drive a new business concept for pizza chains. Capitalizing on the passion of dog lovers everywhere, Stella is extending a personal plea to Papa John's for a doggy pizza that would be available as an "add-on" item when families place an order. View the heart-warming video here.
According to the American Pet Products Association, there are more than 78 million dogs owned in the US and they contribute to a more than $60 billion US pet industry. More and more restaurant concepts are recognizing the importance of including canine family members in everyday experiences, with the addition of dog-friendly patios and even doggy entrees.
Stella has a large following of dog centric fans on Instagram, making it an ideal platform to launch the campaign. The Pit Bull Plea For Pizza is gaining significant traction, with over 100,000 views in just a week.
"The response so far has been amazing," said Marika Meeks, Stella's owner. "We now have growing social proof that this is a valid concept and market enthusiasm has been over-the-top. Don't take my word though, check out the number of views and positive comments, that's where the rubber meets the road."
Stella began her rise to internet fame due in large part to her role in helping Meeks and her family deal with and overcome a stage three breast cancer diagnosis. Since joining the Meeks family, Stella has become a breed ambassador for Pit Bulls, and is currently training to become a therapy dog.
Even if Papa John's doesn't respond, Meeks will continue to pursue making the doggy pizza a reality, with a national pizza chain that embraces the same values with regard to the important role that pets play in people's lives.
To learn more about Stella and the Pit Bull Plea for Pizza visit http://incredibullstella.com/.
About Stella the Pit Bull
Stella the Pit Bull is an Arizona-based pet celebrity and rescue dog who advocates animal fostering and training through a worldwide social media following. Marika Meeks adopted Stella while Marika battled a Stage 3 breast cancer diagnosis. Stella's love and happiness brought to Marika and her family have helped alleviate the anxiety and stress of the illness and treatment. Follow Stella online at http://www.incredibullstella.com and on Instagram, Facebook, Twitter and SnapChat. In 2017, Marika and Stella published their first book, The IncrediBullStella Coloring Book & Story, available on Amazon.