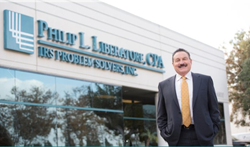 (PRWEB) September 15, 2017
In August of 2017, the Internal Revenue Service rehired 213 employees who ducked taxes, falsified documents, were convicted of theft, or made unauthorized use of taxpayer data, the latest Inspector General's report says.
"This rehiring act directly contradicts a written statement made by E. Faith Bell (the IRS's acting human capital officer) a month prior to the Inspector General's report," says Phil Liberatore, accountant and owner of Liberatore CPA in La Mirada, California. The statement Liberatore is referring to occurred on June 28th, 2017 when Bell wrote to the Treasury Inspector General for Tax Administration (TIGTA) claiming, "To the extent possible by law, the IRS will take all steps allowable to prevent the rehiring of former employees with conduct and performance issues."
Liberatore remarks, "The average American is not pleased with the way the IRS behaves even on a GOOD day. It's disappointing that they are rehiring people who were fired for misconduct and negligence."
This controversy comes after a revealing report from The Washington Times which revealed that the IRS's leniency rate for employees who have been caught cheating on their taxes was around 60-82 percent.
"The IRS is at the heart of the bureaucratic mess in Washington" says Liberatore. "The US Inspector General's findings of IRS employees within the IRS with unpaid tax bills and tax cheats is the tip of the iceberg. The agency doesn't hold its own employees to the same standards as the US taxpayer." Grover Norquist, president of Americans for Tax Reform, added, "the wealth of protections for federal employees under the civil service and union agreements makes my head hurt."
While Liberatore is discouraged by the IRS's rehiring of 213 employees, he is pleased that the recent Inspector General's report has brought "accountability to the IRS", and that the TIGTA now "holds the IRS the same standards as everyone else in the US." Additionally, E. Faith Bell has implemented a "corrective actions" team that, according to Bell, "will ensure existing hiring practices and policies are updated to reflect our use of IRS employment data, specifically any misconduct and performance prior to making a tentative offer [of new employment] to a former IRS employee."
Phil and his team at Liberatore CPA (https://www.liberatorecpa.com/) will be closely monitoring the latest in IRS news and provide updates as they become available