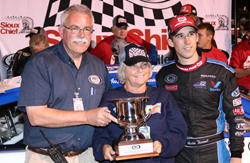 Salem, IN (PRWEB) September 15, 2017
Austin Theriault, in the Jack Bowsher Throwback No. 52 Ken Schrader Racing Ford, brought home the checkered flag in the ARCA Racing Series, Eddie Gilstrap Motors Fall Classic held on September 9, 2017 at Salem Speedway.
Theriault's victory was the culmination of the Sioux Chief sponsored Short Track Challenge Series, which began in April and concluded at Salem Speedway. Theriault is also the current leader in the General Tire Superspeedway Challenge, and is atop the Series standings for overall points this season.
Sioux Chief has increased its ARCA racing involvement in recent years, and was this season's title sponsor for the Short Track Challenge. "We were thrilled to expand our sponsorship role for the 2017 season," said Joe N. Ismert, President of Sioux Chief Mfg. "The Short Track Challenge has been an exciting series and we're looking forward to the rest of the season."
The ARCA Racing Series next heads to Chicagoland Speedway on September 14, 2017 for the SCOTT 150.
For more information on Sioux Chief, visit their website at http://www.siouxchief.com