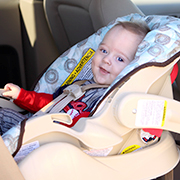 Child safety labels are a key component of product packaging, and Baby Safety Month is a great time for brands to review their product labels.
Denver, CO (PRWEB) September 19, 2017
When it comes to household safety, there are few priorities more pressing than protecting young children. Parents and guardians deserve clear instructions on how to keep babies and toddlers safe, and there's no better time for companies to review their warning labels than September, which is Baby Safety Month.
Great Time to Check Labels
Brands that sell all kinds of common consumer products should spend time determining if their current safety labels are informative and visually noticeable enough. The real audience for childproofing labels is adults who need to know what steps they should be taking to keep potentially risky products out of reach.
The contents of home safety labels should include a mixture of instructions and recommendations, all meant to keep kids safe from harm.
"Child safety labels are a key component of product packaging, and Baby Safety Month is a great time for brands to review their product labels," said Lightning Labels Director of Business Development AnneMarie Campbell.
A Reputation for Safety
There's no such thing as too much preparation when it comes to protecting children from household hazards. Brands that go above and beyond their legal requirements to provide extra advice and information to parents and guardians show that they care. The perception that a particular company has children's well-being in mind may find their customers stay loyal over time.
In Baby Safety Month and beyond, when companies decide to update and improve their safety labels, they can work with a top labeling partner such as Lightning Labels.
About Lightning Labels:
Lightning Labels uses state-of-the-art printing technology to provide affordable, full-color custom labels and custom stickers of all shapes and sizes. From small orders for individuals to the bulk needs of big businesses, Lightning Labels is equipped to handle and fulfill custom label and sticker projects of all types. Best of all, like the name implies, Lightning Labels provides a quick turnaround for every customer's labeling needs. Uses for Lightning Labels' custom product labels and custom stickers include food packaging and organic food labels, wine and beverage labels, bath and body labels, and nutraceutical products, such as vitamins, essentials oils, and herbal remedies, as well as event stickers, adhesive window stickers and more. Lightning Labels strongly supports the development of environmentally friendly printing materials and carries EarthFirst PLA, a new kind of green label material made from corn instead of petroleum. While operating as a high-tech printer, Lightning Labels prides itself on its personalized customer service. Lightning Labels provides one stop shopping for all of your custom label needs. For more information and to place orders online, visit LightningLabels.com. For the latest in packaging news and labeling promotional offers, find Lightning Labels on Twitter (@LightningLabels), Facebook, Pinterest, Google+ and LinkedIn.