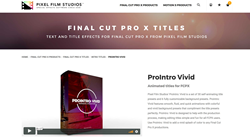 This FCPX Plugin comes with 30 self animating vivid presets.
Aliso Viejo, CA (PRWEB) September 15, 2017
Pixel Film Studios' ProIntro Vivid is a set of 30 self-animating title presets and 6 fully customizable background presets. ProIntro Vivid features smooth, fluid, and quick animations with colorful and vivid background presets that compliment the title presets perfectly. ProIntro Vivid is designed to help with the production process, making editing titles simple and fun for all FCPX users. Use ProIntro Vivid to add a vivid splash of color to any Final Cut Pro X productions.
ProIntro Vivid delivers a vividly colorful flare for all title animation productions. Choose from a variety of styles including colorful elements like lines, boxes, bars and dropzones. Combine any preset with any of the included background presets to complete a vivid look that's perfect for any Final Cut Pro X project.
ProIntro Vivid's on-screen controls enables editors to make changes to any preset efficiently. On-screen controls can determine the scale, position, and rotation of title elements with the drag of a mouse. Additional controls can be found in the Inspector window on the right-hand side of the viewer.
ProIntro Vivid focuses on quick and smooth animations that compliment each other. There is no need to key any frames with our ProIntro series, all titles are animated with a unique intro and outro. Easy to use, browse the ProIntro Vivid library and drag the desired preset above any media in the Final Cut Pro X timeline. Create the perfect vivid look with ProIntro Vivid by Pixel Film Studios.
Choose from six different fully customizable background presets to compliment any of the included 30 title presets. Choose between Kaleidoscope, Replicator, Streaks, Stretch, Tint & Blur, and Tri Color. Each background comes with easy to use controls that gives each editor full customization abilities. Establish greater contrast between title elements and the media behind with any of the included ProIntro Vivid backgrounds.
Established in 2006, Aliso Viejo, California-based Pixel Film Studios is an innovative developer of visual effects tools for the post-production and broadcast community. Their products are integrated with popular non-linear editing and compositing products from Apple FCPX. Apple, the Apple logo, Mac OS X, and Macintosh are registered trademarks of Apple Inc. in the U.S. and/or other countries. All other trademarks and trade names are the property of their respective owners.