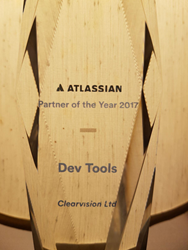 "Clearvision has been an Atlassian awards winner five years in a row, and we are pleased they continue to help Atlassian customers across Europe and the USA."
London, London (PRWEB UK) 18 September 2017
Enterprise IT specialist Clearvision has been named Partner of the Year - Dev Tools at the Atlassian Summit awards - the company's fifth consecutive win at the annual ceremony.
One of the biggest events on the tech calendar, the Atlassian Summit is a highlight for Atlassian users and partners alike. As well as providing a major platform for Atlassian's latest product and feature announcements, the Summit provides an opportunity for Atlassian to shine a light on Solution Partners like Clearvision.
Every year, Atlassian celebrates the contributions of its partners during its Summit awards ceremony, and Clearvision's excellence has been recognised on more than one occasion.
Award Winning Services
"Atlassian is pleased to recognize this year's global and regional Partner of the Year Award winners for their exemplary knowledge in the development tools industry," said Martin Musierowicz, Head of Global Channels at Atlassian. "Clearvision has been an Atlassian awards winner five years in a row, and we are pleased they continue to help Atlassian customers across Europe and the USA."
A Unique Business Model
An Atlassian Platinum Solution Partner with offices worldwide, Clearvision's unique business model is a major contributor to Atlassian's success - a company that has continued its rise after achieving one of the strongest IPOs of 2015. Instead of its own enterprise sales team, Atlassian famously invests heavily in the research and development of its product suite, a range of tools dedicated to unleashing the potential in every team.
It is by focusing on its products that Atlassian has found such success; this is also why Atlassian's supporting network of Solution Partners are integral to the Atlassian community, selling licensing and providing users with unrivalled expertise and complementary support services.
About Clearvision
Clearvision's professional services help some of the world's biggest enterprises successfully deploy solutions based on Atlassian software, through consultancy, implementations and migrations, managed hosting, support and training. With a focus on promoting collaborative, agile teamwork, Clearvision is celebrating its tenth year of being an Atlassian Partner, and this year announced the launch of Teamify, a personality profiling app for Atlassian Confluence.
Visit http://www.clearvision-cm.com for more information on Clearvision's services and offerings.