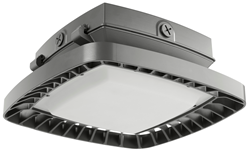 Burlington, NC (PRWEB) September 18, 2017
Atlas Lighting Products has announced the expansion of its line of fast selling, affordable and contractor friendly LED product line with the addition of a Low-Profile Canopy fixture.
Atlas' Low Profile Canopy series offers a Brighter Solution for a wide range of canopy applications. These versatile fixtures produce a smooth and even light pattern that eliminates glare and wasted light while optimizing the delivered light. Multiple design features such as thehinged and removable back housing make installation quick, easy and secure.
The Atlas Low Profile Canopy Light is designed as a complete system to optimize LED life and light output. The housing is made of durable die-cast aluminum and the profile is less than 5 inches tall offering easy integration into either existing retrofit applications or new construction opportunities.
These fixtures provide a rapid return on investment, achieved through a low up-front cost, 200,000+ hours of high lumen output, up to 80% energy savings and no lamp replacement cost. The Low Profile Canopy is available in both 40 and 60 watts, producing up to 133 lumens per watt, these fixtures provide substantial energy and monetary savings year after year. They are Design Lights Consortium Premium approved and are eligible for rebates from DLC member utilities, adding to the initial savings. These fixtures are available in either bronze or white and the options include emergency battery backup and motion.
All Atlas LED fixtures, are burned in after assembly in Burlington, NC for a minimum of 72 hours. During this burn in stage the fixtures are cycled on and off as well as monitored for quality. All Atlas LED fixtures carry a 5 year warranty covering both the fixture and components.These fixtures are in stock and ship within 24 hours to Atlas' distributor partners across the United States.
More information about the Low Profile Canopy can be found here:
http://www2.atlaslightingproducts.com/press-release/CPM-launch