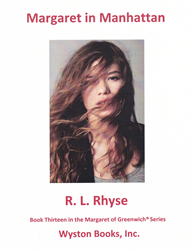 Don't give your enemy half a break.
Warwick, New York (PRWEB) September 21, 2017
"Coming home implies a joyous reunion but I didn't expect mine to last. Not once my parents learned the shocking news." Thus begins "Margaret in Manhattan," Book Thirteen in the Margaret of Greenwich(R) Young Adult series by R. L. Rhyse and published by Wyston Books, Inc. These novels narrate the lives of a poor teenager and her wealthy friends in the richest town in America.
In this thriller, returning home pregnant wasn't what Margaret had expected after her study in Berlin. Nor could she have foreseen the startling family news that awaited her. Yet these events lose importance as a far greater issue arises: a looming attack on the United States, to murder an entire generation of its Army officers.
But Margaret has allies too: Vladimir, a former general of Russia's Presidential Security Service, who considers her a daughter; Hedy, a shadowy figure in the Bundesnachrichtendienst, Germany's Federal Intelligence Service; a lawyer, Margaret's father, whose actions exemplify courage; and her boyfriend, Randy, who is the love of her life.
R. L. Rhyse, a former resident of Greenwich, Connecticut, is the author of the books in the Margaret of Greenwich® Young Adult series. These include Margaret of Greenwich, Margaret and Erika, Margaret at War, Margaret in Tokyo, Margaret and Eve, Margaret and Velda, Margaret and Emily, Margaret and Hillary, Margaret in London, Margaret at Barnard, Margaret at Barnard/Part Two: Deliverance, and Margaret in Berlin.
Available in print and for the Kindle, Nook, and iPad
Pages: 362
E-book $4.99 - eISBN 978-0-9991057-1-9
Print $14.99 - ISBN 978-0-9991057-0-2
Chapters can be read at amazon.com, B&N.com, or the iBook store.