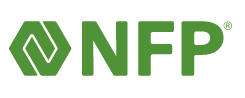 New York, NY (PRWEB) September 19, 2017
NFP, a leading insurance broker and consultant that provides employee benefits, property & casualty (P&C), retirement and individual private client solutions, today announced it has been named in Business Insurance's annual Best Places to Work in Insurance program. The award recognizes employers for their outstanding performance in establishing workplaces where employees can thrive, enjoy their work and help their companies grow.
"We're deeply honored by this recognition and proud of our employees who make NFP a great place to work," said Doug Hammond, Chairman and Chief Executive Officer of NFP. "Our people are our most important asset, which is why the guiding principle of 'It's Personal' informs every aspect of how we run our business. It has enabled us to build a connected family and supportive culture. We look forward to continued strong growth at NFP."
"I'd also like to recognize our Chief Human Resources Officer, Kim Davis, for consistently championing our workforce, for her and the HR team's dedication to employee initiatives, and for spearheading and supporting the entire submission process for this award," said Doug.
"Being named to Business Insurance's list of the Best Places to Work in Insurance for 2017 demonstrates NFP's unwavering commitment to its people and culture – one in which employees are supported, engaged and truly appreciated. This benefits its clients and overall company performance," says Business Insurance Publisher Peter Oxner.
Best Places to Work in Insurance is an annual recognition that identifies the leading employers in the insurance industry by conducting a free two-part assessment of each company. The first part is a questionnaire completed by the employer about company policies, practices and demographics. The second part is a confidential employee survey on engagement and satisfaction.
The program divides employers into the categories of small, 25-249 employees; medium, 250-999 employees; and large, 1,000 or more employees. This year's report features 75 companies of various sizes, from 25 employees to more than 4,000.
The ranking and profiles of the winning companies will be unveiled as a sponsored content supplement in the November issue of Business Insurance and online at BusinessInsurance.com.
About NFP
At NFP Corp., our solutions and expertise are matched only by our personal commitment to each client's goals. We're a leading insurance broker and consultant that provides employee benefits, property & casualty, retirement and individual private client solutions through our licensed subsidiaries and affiliates.
NFP has more than 3,800 employees and global capabilities. Our expansive reach gives us access to highly rated insurers, vendors and financial institutions in the industry, while our locally based employees tailor each solution to meet our clients' needs. We've become one of the largest insurance brokerage, consulting and wealth management firms by building enduring relationships with our clients and helping them realize their goals.
Recently NFP was ranked the 4th largest U.S.-based privately owned broker and the 5th largest benefits broker by global revenue by Business Insurance, the 9th largest property & casualty agency by total 2016 P&C revenue by Insurance Journal, the 11th largest global insurance broker by Best's Review and the 12th largest broker of U.S. business by Business Insurance.
For more information, visit NFP.com.