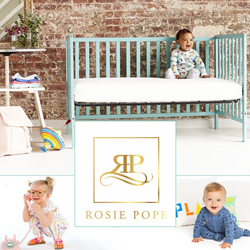 [Pope] loves being a mom, and that really comes through in everything she designs.
Fort Lee, NJ (PRWEB) September 18, 2017
MyRegistry.com, the world's leading universal gift registry provider, announces the launch of its newest gift registry partner, Rosie Pope Maternity and Baby, which carries the popular Rosie Pope collections among other pregnancy, postpartum, and baby essentials.
Fans of the Rosie Pope brand will now be able to create the gift registry of their dreams at rosiepope.com/shop where they can add items such as her signature layette styles, baby clothes and shoes, as well as organic crib mattresses, diaper bags, nursing apparel, and postpartum shapewear.
Pope, a London-born dancer and fashion model turned entrepreneur, gained recognition in 2008 after starting Rosie Pope Maternity (a move she says was motivated by a lack of fashionable maternity choices during her first pregnancy). Her TV show on Bravo, Pregnant in Heels, followed in 2011 after she made an appearance as a maternity guru on Bethenny Getting Married, another Bravo series featuring Real Housewives of New York veteran Bethenny Frankel.
Today, Pope, who is also a published author, has four children under the age of 10 and three eponymous boutiques (two in NYC and one in Santa Monica) as well as an online shop. "I'm extremely busy, but I don't mind because I'm doing what I love, and that's helping women feel confident and empowered throughout their pregnancies and beyond," she says.
"Pope is a true entrepreneur in every sense of the word," says MyRegistry.com President Nancy Lee. "But she's also a woman who loves being a mom, and that really comes through in everything she designs. We are thrilled she has joined the hundreds of other retailers who already partner with us."
There is no doubt fans of Rosie Pope Maternity and Baby will be, too.
About MyRegistry.com
Launched in 2005, MyRegistry.com is the premier destination for Universal Gift Registry services. MyRegistry.com gives its users the ability to create one centralized registry for any gift-giving occasion. Registrants can add items from any store in the world. They can even sync existing store registries and tastefully register for cash gifts. In addition, MyRegistry.com is the largest universal gift registry software provider to U.S. and Canadian retailers. All stores, One registry.®
About Rosie Pope Maternity and Baby
Rosie Pope combines the worlds of pregnancy, motherhood, maternity clothes, and baby clothes all in one place. She takes pride in being the leader in the baby, maternity, and parenting industries. Whether it is your search for cute baby clothes, perfect maternity dresses, trendy maternity clothes, or more knowledge on nursing, birth plans, maternity style, or newborn care, consider rosiepope.com your one-stop shop! If you would rather shop in person, be sure to check out any of her baby and maternity stores.
MyRegistry.com Media Contact:
Kristen Sfyris
201-363-0045 x105
ksfyris(at)myregistry(dot)com
Rosie Pope Media Contact:
Jordan Kennedy
212-213-3395
jordan(at)rosiepope(dot)com