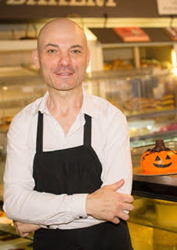 (PRWEB) September 15, 2017
Lenny Rosenberg, since the tender age of seventeen (17), has been investing, rebranding and flipping restaurants. He is often referred to as, "The Restaurant Doctor." His talent and expertise are unsurpassed by anyone in the past twenty-five (25) years, as he's continued to perfect his craft by using "I.F.S.", placing an emphasis always on inventory, food, and service.
He started flipping restaurants in New York and has been doing so through the mid-west and Malibu over the years. The $15 dollar an hour minimum wage increase, however, he believes may work against his restaurant flipping efforts as well as other restaurant workers.
Lenny says, "The minimum wage in the old days would increase at an incremental rate and over long periods of time. Now what they're doing is raising that wage one to two dollars a year, and forcing the small business owners to raise their pricing anywhere from 15 and 25% to account for that raise." He continues, "Not only that, now they also can't afford to hire as many people, which means more unemployment."
When no other business owner was willing to go on camera to discuss the sensitive issue, Lenny allowed himself to be interviewed by So Cal News over 2 years ago when the accelerated minimum wage raises were first announced to explain why it would be so bad for small business and, eventually, the economy. Now that we are halfway through the process of the accelerated raises, we are seeing massive closings of establishments that have been around for decades.
https://www.youtube.com/watch?v=in9A4Z4TZYc&t=3s
+++++++++++++++++++++++++++++++++++++++++++++++++++++++++++++++++++++++++++++++++++++++++++++++++++++++
Lenny & his team have been approached by many talent agencies, including CAA, UTA & Rebel entertainment, to display his talent of televising the restaurant flipping game across the country.
Lars Restaurant Flips
http://www.larsRestaurantFlips.com
http://www.twitter.com/LennyRosenberg
http://www.instagram.com/lennyrosenberg
http://www.youtube.com/channel/UC5lCTbZOrOC1K-d6hQrPALw