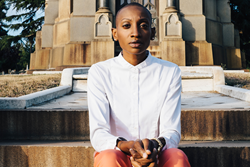 "I have long believed that great teachers are performance coaches, and there is no better example of this than Holley Murchison. In Tell Me About Yourself, Holley not only helps the reader unearth his or her voice but recognizes that the leaders of the 21st century will be storytellers." —Dave Lynn
Oakland, CA (PRWEB) September 18, 2017
Berrett-Koehler Publishers is pleased to announce the publication of a new book by author and entrepreneur Holley M. Murchison. Her new book, Tell Me About Yourself: Six Steps for Accurate and Artful Self-Definition (ISBN 978-1-5230-9466-0) publishes today. Murchison shares the foolproof method she developed for pulling all the pieces of your life together and conveying the perfect, memorable response to that inevitable command: "Tell me about yourself."
From college students to long-term professionals, people now a days are having to constantly redefine themselves and their skill-set for their work, career, and life. Tell Me about Yourself pairs interviews and case studies with a simple, scalable framework, to help readers craft and deliver comprehensive and compelling introductions and personal stories for themselves, their team, and their companies.
This book presents a six-step process that transforms introductions into self-definition, going far beyond the dryness of job title, hometown, or interests, and instead articulates how motivation and values shape the choices people make.
Holley M. Murchison is the founder and CEO of Oratory Glory, a communication agency and speaker collective catalyzing diversity by amplifying marginalized voices. She is currently entrepreneur-in-residence at Oberlin College. She was recently featured in Glamour magazine's activist issue as one of six women using their voices to change the world.