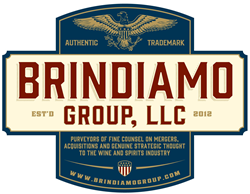 Brian's formidable experience will assist our clients on a global basis
Nashville, Tennessee (PRWEB) September 19, 2017
Nashville, Tennessee based Brindiamo Group, a leader in strategy, advisory services and liquid sourcing to the adult beverage industry, has added Brian Rosen as a Partner in the group. Rosen is globally regarded as a leading authority in the three-tier system, retail off premise, marketing, merchandising, ECOMM and go to market strategy for the adult beverage space. He has been called the "Brand Whisperer" by Adult Beverage Trend Magazine.
Rosen brings Brindiamo immediate access to a leading sales, marketing and a distribution hub for adult beverage brands. With over 225 sales people on the ground in major selling locations, Brindiamo clients will have unique access to a combination of distribution, sales and activation teams guiding them thru the complex US marketplace.
"I have known Brian for many years and we are excited to have him joining the team," says Jeff Hopmayer, Managing Director of Brindiamo Group. Rosen joins Brindiamo at a critical time as the company's platform of providing strategic counsel continues to grow at a rapid pace.
Rosen was CEO of his own $100M-retail liquor enterprise, a partner at PricewaterhouseCoopers in adult beverage and then started his own consulting business, BevStrat. While operating in the liquor channel he was named Retailer of the Year 3 times, Forbes Best of the Web 2 times and having has many other awards to his name, including the lead industry writer for Wine Industry Advisor.
According to Rosen, "I am excited to join the team and continue to provide world class guidance and support to our clients and partners in the exciting and rapidly changing U.S. alcohol and distilled spirits industry."
###
Founded in 2014 Brindiamo Group helps companies in the wine and spirits industry grow, capitalize and monetize their business by providing sound strategic counsel. We've owned and operated businesses in the sector, so we understand entrepreneurial spirit. We complete transactions on a global basis with a focus on privately held early to mid-stage companies. Our services include: Strategy & Advisory Services, Mergers and Acquisitions, Financial Solutions, ground sales support and Liquid Sourcing. For additional information please visit http://www.brindiamogroup.com