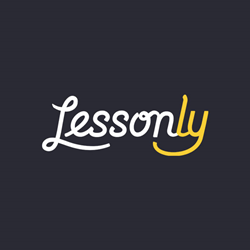 "We continue to work hard, bring in the best talent in the Midwest, and improve our product—all in the name of helping people work better and live better." — Max Yoder, Lessonly CEO
Indianapolis, Indiana (PRWEB) September 19, 2017
Lessonly, the leader in team learning software, this month celebrated the largest sales week in the company's history. The company has seen radical success in the market over the last 5 years, with consistent quarter-on-quarter growth. Since Lessonly's series A funding in March 2016, the team has grown 136% and continues to bolster its Indianapolis-based operations.
"The team couldn't be more proud of our success this quarter," said Lessonly CEO Max Yoder. "We continue to work hard, bring in the best talent in the Midwest, and improve our product—all in the name of helping people work better and live better."
As part of this expansion, Lessonly this month added two experienced directors to their leadership team—Andrew Robinson III as Senior Director of Product & Engineering and Bryan Naas as Director of Sales Enablement.
Andrew Robinson III brings to Lessonly more than 10 years of software leadership experience at companies like Formstack, Emplify, and Our Health. He will lead a team of developers, engineers, and product managers as they continue to build out Lessonly's innovative product.
Bryan Naas joins Lessonly with 10 years of sales experience, most recently as Director of Product Enablement at Salesforce. Bryan will focus on developing and executing sales development and enablement for the rapidly growing sales team.
Lessonly has doubled in size every year for the last 5 years, and continues hiring initiatives for roles at their Indianapolis headquarters. Hiring for numerous roles in sales, product, client experience, marketing, recruiting, and operations will continue through the end of 2017. Current openings can be found on Lessonly's website.
About Lessonly
Lessonly is modern team learning software used by over 900,000 learners at more than 400 companies. Lessonly translates important work knowledge in Lessons that help teams learn, practice, and perform at the highest level. Sales teams across the world use Lessonly to reinforce best practices, accelerate rep performance, and close more deals. Support teams across the world use Lessonly to serve customers faster, drive consistent support, and elevate the customer experience. Learn more at Lessonly.com.
Follow us on Twitter at @Lessonly and like us on Facebook at facebook.com/lessonlyapp.