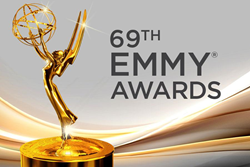 Jupiter, FL (PRWEB) September 16, 2017
The 69th Annual Primetime Emmy Awards airs Sunday, Sept. 17, at 8 p.m. ET/5 p.m. PT on CBS, hosted by Stephen Colbert.
Hosted by Actor, Stephen Colbert, the Emmy Awards will honor the best in U.S. prime time television programming which aired from June 1, 2016 until May 31, 2017, as chosen by the Academy of Television Arts & Sciences.
The ceremony will be held on Sunday, September 17, 2017 at the Microsoft Theater in Downtown Los Angeles, California, and will be broadcast in the U.S. by CBS. The ceremony will be hosted by Stephen Colbert.
This year the freshman HBO science fiction western drama Westworld and NBC sketch comedy Saturday Night Live are the most nominated programs, with 22 nominations each. Others include Netflix originals, The Crown and House of Cards. In 2013, Netflix became the first streaming service to win a Primetime Emmy Award. Only four years later, nearly half of the shows nominated for best comedy or drama come from streaming services like Netflix and Hulu, which has been nominated this year for their original series, The Handmaid's Tale.
Click here to watch Anna Chlumsky and Shemar Moore announce the nominees for the 69th Emmy Awards.
***
DMG Productions
Contact: Sarah McBrayer – Creative Director
Phone: (866) 496-4065 x 802
Website: http://www.dmgproductions.org
DMG Productions (responsible for creating Innovations with Ed Begley Jr., American Farmer, Shades of Green, Business Update, Health Heroes, and more) includes personnel specialized in various fields from agriculture to medicine, independent films to regional news, and more. Field producers work closely with experts in the field to develop stories. This powerful force enables DMG to consistently produce commercial-free, educational programming that both viewers and networks depend on.