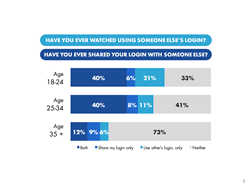 4 in 10 younger consumers both use the passwords of others and give out their own
BOSTON (PRWEB) September 18, 2017
Hub Entertainment Research's syndicated reports have been tracking the rapid growth in subscription to online TV services—including impressive increases for SVOD services like Netflix, Hulu, and Amazon. And we've seen that a big part of this growth is driven by the appeal of original and exclusive shows on these platforms.
But the popularity of these services and shows has the potential to make password sharing a tempting proposition for TV viewers. And our recent TV Redefined study shows that many consumers are taking advantage.
The study looked at password sharing among TV consumers with broadband, across a range of online TV services, including SVODs, direct to consumer online services (including HBO Now, CBS All Access), TV Everywhere applications (requiring an MVPD subscription), and virtual MVPDs (such as Sling TV, DIRECTV Now).
Highlights from the findings:

Password sharing is widespread: One-third of all viewers 16-74 (35%) have used the login credentials of someone outside their home to access TV shows online.
Giving is as common as receiving: 33% have given out their own passwords to someone outside their household.
It's not just limited to family: 10% have given their password to a friend, and 13% have used the password of a friend.
Sharing is much more common among younger consumers: 56% of those aged 18-34 have watched using someone else's account, and 47% have given their password to someone else.
In fact, the data suggest that the TV landscape includes a sizable "sharing economy," with younger viewers the most active participants:
Among all consumers, 43% do at least some account sharing (using others' password or giving out their own), including one-quarter (25%) who do both: use other people's accounts AND give out their own.
Among 18-24 year olds, a full two-thirds (67%) do at least some sharing, including 40% who both give AND receive.
The study also looked at the specific services consumers are most likely to share:
Leading the list is Netflix: 63% of those who have used someone else's credentials used them to watch Netflix; among 18-34 year olds who share, it's 72%.
Next most popular among sharers: HBO Now (34%), Amazon (32%), Hulu (28%)
"If you're an online TV service provider, the popularity of password sharing could be interpreted as good news, since it helps expose one's platform to more consumers who might subscribe in the future," said Peter Fondulas from Hub, who co-authored the study. "But your opinion might be different if you're an investor worried about these services leaving money on the table."
"It's better to accommodate how viewers want to watch, than try to force them to do something different," said Jon Giegengack from Hub. "A set number of simultaneous streams means there's no such thing as 'unauthorized' use. Certainly there are some watching Netflix for free who would pay if they had to. But the measures needed to stop them would degrade the experience for all Netflix users. And the user experience is central to what has made these platforms so successful."
About this Research 
"TV Redefined" was conducted among 1,608 US consumers with broadband and who watch at least 5 hours of TV per week. The data was collected in August 2017. An infographic and excerpt of the report are available as a free download from Hub Entertainment Research.
About Hub Entertainment Research
Hub Entertainment Research is a market-research firm with deep expertise in television, movies, gaming, music, publishing, and sports: anywhere that entertainment and new technology overlap. In the television industry, Hub analysts work with MVPDs, networks, content creators, and digital distributors. Our job is to help our clients negotiate new risks, act upon emerging opportunities, and reveal the clearest paths to success in a changing marketplace. For more information, please visit us at http://www.hubresearchllc.com.