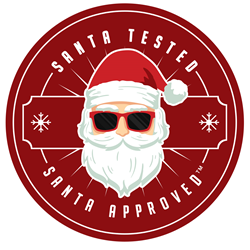 Concord, ON (PRWEB) September 19, 2017
PTPA Media Inc., already known for testing and certifying great products as Parent Tested Parent Approved™, today launches a new awards program designed to highlight all the best that the holiday season has to offer. This award program, called Santa Tested Santa Approved™, leverages the fun and magic of the holiday season in order to recognize great products.
The award is unique among its kind, relying on enthusiastic holiday-minded parents to endorse products that they get to experience and recommend personally. Private label brands and toy companies alike can greatly benefit from the differentiation of being Santa Tested Santa Approved™.
The Santa Tested Santa Approved™ Seal of Approval represents another tremendous innovation on behalf of PTPA Media Inc. Their growing family of award certifications includes Parent Tested Parent Approved™, Mom Tested Mom Approved™, Geek Tested Geek Approved™, etc.
With these highly sought-after certifications, PTPA Media Inc. is helping to ensure that consumers are able to make great purchasing decisions on behalf of their families; decisions based on authenticity and peer endorsement.
The announcement of the Seal winners is slated to occur in early November and companies with a great product to enter are encouraged to learn more about the award on the PTPA website.
How Winners Are Determined
Families across North America participate in the testing process, at no cost to them. They evaluate the products with their families in real life environments rather than simply conducting a consumer vote. Their feedback and evaluations are carefully tallied and curated, and products that meet their standards earn the coveted PTPA Seal of Approval, which can be leveraged on packaging, advertising, end-cap displays, and more. News of the victory is shared among our community of over 75,000 families.
About PTPA Media Inc.
"At PTPA Media, we are proud to play a role in certifying innovative products that families can trust," says Sharon Vinderine, Founder & CEO of PTPA Media. "It's a win-win. By improving communication between manufacturers and consumers, we are helping companies serve their market better, and helping families identify products that have been tested and recommended by their peers." For more information visit http://www.ptpamedia.com.