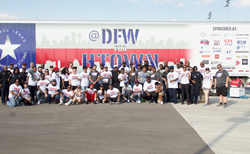 'After the hurricane, I expected Houston to get support from the big organizations who handle disaster relief. I didn't expect to see so much love coming from the Dallas area. I was surprised when I saw all the trucks from DFW.' - Z-RO
Dallas, TX (PRWEB) September 15, 2017
Today, September 15th, at 5:00pm CST Texas 2Gether, a 16-Texas-artist collaboration, will be debuted.
Hurricane Harvey was a historic weather event that wreaked havoc on the entire southern coast of Texas. The Houston area suffered significant damage. As the storm was pummeling Houston with as much as four feet of rain, Houston artist Z-Ro, in his home, unable to leave, was compelled to write Houston 2Gether, a song he penned to provide those hard hit by the hurricane with something uplifting and positive. Houston 2Gether received great praise and fanfare. It is an instant classic.
250 miles north on I-45, the Dallas-Fort Worth area residents were also being compelled to act. Through the news, they were seeing the devastation Harvey had caused. DFW area radio stations 97.9 The Beat and Majic 94.5 partnered with the Texas lawyers at IJustGotHit.com and formed DFW for HTOWN (http://www.DFWforHTOWN.com), a campaign aimed at providing an outlet for DFW area residents to assist those impacted by Hurricane Harvey in Houston. They placed 18-wheelers at Walmart locations in Dallas and Fort Worth. After five days of generous donations from the DFW area, including individuals and corporations, the campaign filled four 18-wheelers.
On Sunday, September 10th, the DFW for HTOWN caravan, accompanied by several DFW area hip-hop artists, left DFW heading South on I-45 towards Houston with thousands of items earmarked specifically for the children and families of the Houston Independent School District. The trip was a symbolic show of support between fellow Texans. Upon arrival, the caravan was met by a large group from Houston area radio stations such as 97.9 The Box and Majic 102.1, along with many Houston-area hip-hop artists, including Z-Ro. Many in Houston were pleasantly surprised by the show of love from their neighbors to the North. Z-Ro said, "After the hurricane, I expected Houston to get support from the big organizations who handle disaster relief. I didn't expect to see so much love coming from the Dallas area. I was surprised when I saw all the trucks from DFW."
After unloading all four 18-wheelers, the DFW for HTOWN crew departed for its return to DFW. However, the DFW-area hip-hop artists stayed in Houston that night. They, and the legendary Houston-area hip-hop artists, inspired by Z-Ro's Houston 2Gether song, hit the recording studios and recorded a collaboration song for the ages entitled 'Texas 2Gether.'
"Throughout my entire career, I have never seen a musical collaboration of this magnitude," says Tami Honesty, vice president and general manager, Radio One Dallas. "This is the truest demonstration of people helping people across the great state of Texas, not only through their monetary donations, but with their time and talents."
This new music collaboration debuts today and will be available for purchase for $1.29 on iTunes with all proceeds going to Hurricane Harvey relief efforts.
"As a native Texan, taking part in this effort has been an amazing experience witnessing the strength of my neighbors helping our fellow neighbors to the south," says Justin Martin, Firm Principal, IJustGotHit.com. "This is just the first run that we have planned in support of those in need. It will take time to rebuild these communities and we plan to be there along the way."