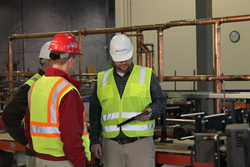 (PRWEB) September 18, 2017
Boston area startup ManufactOn announced today the close of its Series A investment round in which it raised $2.5 million.
ManufactOn is a SaaS (mobile/web) platform that helps construction firms plan, track, and manage both prefabrication and regular material handling. ManufactOn makes information visible to all general and trade contractors involved in a project, including: coordinators, detailers, procurement, shop foremen, field superintendents, and project leaders.
"ManufactOn continues to expand its footprint.  We are pleased to have secured series A funding from leading investors in the construction industry," said Raghi Iyengar, founder and CEO. "We are excited to see the industry embracing industrialized construction.  We are looking forward to continued growth, so that we can provide innovative solutions that accelerates the transformation."
Darren Bechtel's Brick & Mortar Ventures led the financing, with participation from other construction industry investors.  "The world of construction is moving away from its traditional stick-build, in-place processes, and is slowly but surely adopting a new status quo in which construction replicates modern day precision manufacturing, with real estate-scale building components and subassemblies fabricated in offsite, controlled environments and shipped for just-in-time arrival and installation," explained Darren Bechtel. "ManufactOn is positioned to be the one-stop-shop solution for managing the manufacturing, and tracking, of prefabricated building components throughout their entire lifecycle, from raw materials to final installation."
"Autodesk's Forge Fund investment in ManufactOn advances industrialized construction by providing construction firms the tools needed to manage the fabrication supply chain" said Jim Lynch, Autodesk Vice President Construction Products. "Each day of delay on a project is a potential budget buster and integrating ManufactOn's service with Autodesk's BIM 360 construction management platform enables our shared customers to reduce risk by providing critical insight into any potential supply chain problem."
Autodesk's investment and ongoing partnership in no way limits ManufactOn's ability to integrate with other software vendors – a testament to Autodesk's openness and willingness to do what is best for the industry.
"Supply chain management and visibility remains one of the critical challenges in the construction industry," said Eric Lamb, Executive Vice President and member of Management Committee for DPR Construction. "DPR wants to change the world and believes that technology is fundamentally going to change the way we deliver construction. DPR is partnering with ManufactOn to move our industry forward, and a supply chain solution focused on construction has tremendous opportunities to drive out waste and bring more predictability to the construction process."
"We had been struggling to provide visibility into our production "black box" to our project coordinators and field superintendents," said Brian Potter, President and CEO of TG Gallagher, a large mechanical subcontractor in Cambridge, MA. "In addition to helping our shop foremen organize production, the mobile app from ManufactOn is used by our field and office teams to know exactly what has been produced and where it is right now.  We use the Autodesk portfolio as well and are excited to see the Autodesk and ManufactOn partnership to further drive and connect our prefabrication strategy into BIM."