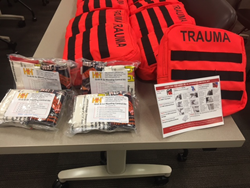 Each kit provides essential "Stop The Bleed" products to control severe bleeding in emergencies.
Williamsburg, Virginia (PRWEB) September 17, 2017
H&H Medical Corporation, a leading manufacturer and supplier of emergency first aid products, announced today the delivery of custom emergency first aid kits for placement within the Williamsburg-James City County, York County, and York-Poquoson school systems. The kits were built in cooperation with Fire, EMS, and School officials from the City of Williamsburg, James City County, York County, and the City of Poquoson.
The kits are part of a continuing effort by the fire department to improve preparedness in the event of medical emergencies countywide. The kits to be made by H&H Medical will contain products specially designed to stop severe bleeding and to keep someone injured stable until emergency medical professionals arrive on the scene. Each kit contains a SWAT-T compression tourniquet designed to work on children and adults, an H&H Compressed Gauze pack to place into a deep wound to slow bleeding, an H&H Thin H compression bandage to place over wounds and apply compression, an emergency blanket to keep the injured person warm and reduce the risk of shock, and a plastic safety cutter to help removing clothes and debris from an injured person.
Four pre-packed kits, each individually wrapped, will be placed in custom orange pouches to be stationed throughout the schools in the Williamsburg-James City County, York County, and York-Poquoson school system. Along with each kit, a set of instructions will be included showing first responders how to use each item in the kit. H&H Medical expects up to 200 kits to be placed in the schools by the end of the calendar year.
"As a proud member of this community, we are glad we can bring our products to the school system to help everyone be prepared in the event of a serious emergency," said Paul Harder, president of H&H Medical. "We believe everyone can improve the chance of survival from a serious bleeding injury with the right products at the right time."
About H&H Medical Corporation
Since 1982, H&H Medical Corporation has been dedicated to solving complex problems facing military and civilian responders. Recognized as a leading supplier of innovative pre-hospital trauma products, H&H Medical Corporation manufactures and distributes such products as the Bolin Chest Seal™, H-Bandage™ compression dressing, H&H Compressed Gauze, and Emergency Cricothyrotomy Kit. For more information, visit us at http://www.gohandh.com or download our app for IOS or Android.