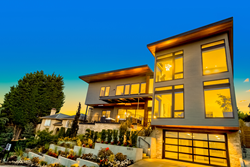 "Not only is the 425 Idea House an architectural accomplishment but it is also JayMarc's 100th home built in the preferred neighborhoods of Bellevue and Mercer Island." - Marc Rousso, CEO of JayMarc Homes.
Seattle, WA (PRWEB) September 15, 2017
Representatives of JayMarc Homes have delivered the 2017 "425 Idea House" located at 9803 SE Shoreland Drive in Bellevue, enviably located within walking distance of Old Main Street attractions. The 5 bedroom, 4.5 bathroom manse is comprised of 5,690 sq. ft. with three stories, an in-home garage and inspiring views of Whalers Cove and downtown Bellevue. It's the centerpiece of 425 Magazine's 11th annual showcase of design, architecture and lifestyle, which was previewed on September 14th for ticketed guests and attracted more than 160 attendees. Listed for $4,488,888 by broker Daniel Sessoms of Realogics Sotheby's International Realty(RSIR), a public open house weekend is scheduled for Saturday, September 16th and Sunday, September 17th from 11 a.m. to 5 p.m.
"The 425 Idea House is certainly a crowning accomplishment in our growing portfolio of fine residences," said Marc Rousso, CEO of JayMarc Homes. "By year end, we will have built one hundred new homes in the neighborhoods of West Bellevue and Mercer Island."
Since its formation in 2010, JayMarc Homes has been one of the most significant builders of luxury single family homes on the Eastside and is listed among the Fastest-Growing Private Companies in Washington for four years in a row, and the 93rd Largest Company, according to the Puget Sound Business Journal. Rousso says his firm has eighteen homes either newly finished or nearing completion this fall.
"We offer prospective homebuyers the greatest selection to choose from in the history of JayMarc Homes," adds Sessoms. "We hope to sell out by the end of the year."
According to the NWMLS, home sales volumes priced above $2 million in the greater Bellevue and Mercer Island neighborhoods have increased by 25-percent for the trailing six months when compared with the prior year. Likewise, median home prices and average price per square foot expanded 7.8-percent and 8.8-percent, respectively. Yet despite the demand, some experts predict a decline in the production of new homes built in the years ahead.
"The cost of development is increasing and that's going to challenge the affordability of the product," says Dean Jones, President and CEO of RSIR. "There could also be a supply and demand imbalance looming, which means higher prices."
Rousso acknowledges his current inventory benefits from sharper lot prices and certain efficiencies with construction costs given JayMarc's robust development operations. Of the 18 homes in his pipeline, four are pending, five are available and nine more will soon deliver with an average asking price of $2,886,876.
"There's no question these prices would be 12 to 15-percent higher if we attempted to replace this inventory next year – assuming we could find available lots," admits Rousso. "Our entire industry faces the same challenge with the unavailability of land and skyrocketing construction costs."
Analysis by JayMarc suggests a typical building lot in Bellevue and Mercer Island has increased in cost by at least 10-percent per year between 2013 and 2017 and construction hard costs rose by 5 to 8-percent annually.
"Fortunately, home appreciation has grown at a faster clip so that should continue supporting new home building but at higher prices," adds Jones. "For consumers, this motivates a move sooner than later."
According to estimates by Zillow, JayMarc homeowners have enjoyed an average annual home value gain of 12.6-percent on Mercer Island and 13.5-percent in Bellevue. (1)
Jones notes a primary benefit of buying in presales is the ability to lock in a future home price while having time to prepare a current home for sale within a rising market. Prospective buyers interested in learning more about presale opportunities with JayMarc Homes are encouraged to register for more information.
###
About Realogics Sotheby's International Realty (http://www.RSIR.com) - Artfully uniting extraordinary homes with extraordinary lives, Realogics Sotheby's International Realty is a leading global sales and marketing brokerage firm in the Pacific Northwest. Recognized by the Puget Sound Business Journal amongst the fastest-growing private companies in Washington State for 2012, 2013, 2014, 2015 and 2016 the boutique real estate firm of 225+ brokers consistently rank among the top producing firms within the markets that it serves with branches in downtown Seattle, Bainbridge Island, Kirkland, Issaquah and Madison Park.
About JayMarc Homes (http://www.JayMarc.com) - Jay Mezistrano and Marc Rousso created JayMarc homes in 2010 with the intention of building beautiful and livable luxury homes for discerning buyers in Mercer Island and West Bellevue. Focusing on move-in ready, pre-sale and custom homes with an emphasis on best-in-class experience, JayMarc Homes has experienced dramatic growth as one of the pre-eminent luxury homebuilders in the area.
EDITOR'S NOTE: Development renderings, neighborhood aerials and additional market statistics are available upon request.
(1) Figures are compound annual growth rates from the most recent selling price to current Zillow Zestimates.