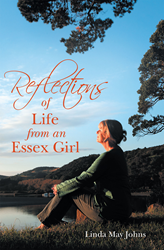 AUSTRALIA (PRWEB) September 18, 2017
At the age of 12, author and poet Linda May Johns began writing down the events she witnessed and experienced in the form of poetry. Johns utilized this unique way of documenting her life and current events of the times as she travelled to every continent of the world. Now in her 60's and as a grandmother living in Elderslie, NSW Australia, Johns decided to publish her book of poetry not only to share her story with her family but to also provide commentary on the events she has experienced.
The collection of poetry explores the heartfelt emotions involved in raising a family, the loss of a beloved pet, as well as poetry suitable for children. Johns' poetry provides a timeline of life and world events during the personal ups and downs she experienced and in all of the different countries she has travelled to and lived in with each poem indicating the age in which she wrote it at.
Raised in Essex, England, Johns also wants to help destigmatize what it means to be an 'Essex Girl" by using her poetry to show the term in a positive way. She remembers her time spent there fondly and does not want the term used in a derogatory manner any longer.
"Reflections of Life From an Essex Girl"
By Linda May Johns
ISBN: 978-1-5043-0761-1
Available on Amazon, Barnes & Noble, and the Balboa Press Bookstore
About the author
Linda May Johns is an Australian author born in Glasgow and raised in Essex. She enjoys family life with her husband, three sons and grandchildren and writing poetry that reflects her experiences in Essex and abroad.
For general inquires & review copies contact:
LAVIDGE – Phoenix
Lauren Dickerson
ldickerson(at)lavidge.com
480-998-2600