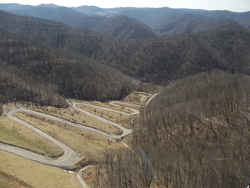 "This is another example of how we look to explore all options when trying to find new solutions to solving problems and saving money, without sacrificing safety, environmental, or quality standards," stated Kirk Taylor
FISHERS, INDIANA (PRWEB) September 19, 2017
American Resources Corporation (OTCQB: AREC), through its wholly owned subsidiaries Quest Energy Inc., McCoy Elkhorn Coal, Deane Mining and Knott County Coal, is making significant progress on the company's plan to complete reclamation and reduce environmental liabilities. Through its ongoing evaluation of idled and active operations, the company has identified numerous opportunities to efficiently execute reclamation work and reduce its environmental impact, thereby reducing its costs and liabilities while also providing a benefit to the local community.
Since acquiring three operating subsidiaries, McCoy Elkhorn Coal, Deane Mining, and Knott County Coal in 2015 and 2016, Quest Energy has established two in-house reclamation, maintenance and development crews to perform such work, rather than operating under the existing outsourced models. This has enabled Quest Energy to perform efficient and responsible land reclamation that could have potentially otherwise fallen back to the state of Kentucky. Through its restructuring efforts, Quest Energy has not only completed work that allows for bond release, but has also worked with the Commonwealth of Kentucky's Department of Natural Resources to potentially identify certain permitted areas that may have a better use for the local community.
In conjunction with Quest Energy's internal Environmental Team, the company has also been able to reduce permit maintenance costs, such as through various unnecessary pond removals and a more efficient Whole Effluent Toxicity (WET) Testing schedule, in conjunction with various local, state, and federal approvals. Furthermore, through the efforts of technologies, reclamation and identifying vendor savings, Quest Energy has been able to significantly reduce its chemical treatment costs at various treatment sites by over 68% from pre-acquisition levels.
"This is another example of how we look to explore all options when trying to find new solutions to solving problems and saving money, without sacrificing safety, environmental, or quality standards," stated Kirk Taylor, Chief Financial Officer of American Resources Corporation. "By taking a holistic approach to our reclamation and environmental responsibilities, we have been able to realize material cost savings since acquiring these assets."
American Resources Corporation will continue to identify operational efficiencies in its continuing goal to be one of the lowest cost operators and responsible stewards of the environment in Central Appalachia and throughout all its coal mining, processing, and transportation operations.
About American Resources Corporation
American Resources Corporation is engaged in diversified energy services including mining, processing and logistics, with a primary focus on traditional energy sources such as coal and oil and gas. American Resources Corporation plans to expand its business by continuing to develop its currently leased properties and further expanding its processing and logistics business, and through the pursuit of strategic acquisitions.
Contact:
Mark LaVerghetta, Director of Corporate Communications
investor(at)americanresourcescorp(dot)com
Special Note Regarding Forward-Looking Statements
This press release contains forward-looking statements. Forward-looking statements involve known and unknown risks, uncertainties, and other important factors that could cause the Company's actual results, performance, or achievements or industry results to differ materially from any future results, performance, or achievements expressed or implied by these forward-looking statements. These statements are subject to a number of risks and uncertainties, many of which are beyond the control of the Company. The words "believes", "may", "will", "should", "would", "could", "continue", "seeks", "anticipates", "plans", "expects", "intends", "estimates", or similar expressions are intended to identify forward-looking statements, although not all forward-looking statements contain such identifying words. Any forward-looking statements included in this press release are made only as of the date of this release. The Company does not undertake any obligation to update or supplement any forward-looking statements to reflect subsequent events or circumstances. The Company cannot assure you that the projected results or events will be achieved.
Source: American Resources Corporation