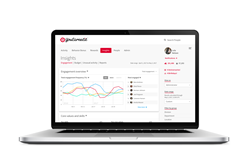 Austin, TX (PRWEB) September 19, 2017
YouEarnedIt, a leading HR SaaS company that improves bottom-line performance metrics by enhancing the employee experience, today unveiled Insights 2.0 - an enhanced analytics feature suite aimed at providing insights for people managers & HR professionals, gamifying engagement for employees, and quantifying the employee experience. Insights 2.0 is available immediately to all YouEarnedIt customers.
Insights 2.0 pulls together relevant data to deliver actionable people analytics to platform administrators, managers, and employees across an organization to help companies achieve bottom-line performance metrics. Available to all YouEarnedIt customers no matter their company size, Insights 2.0 is a key functionality that consists of four new analytics views:

Engagement: Identifies the most (and least) engaged employees within an entire organization or filtered group using YouEarnedIt's proprietary insights scoring algorithm
Budget: Provides detailed spending information and an end-to-end view of budget allocation
Milestones: Gives managers and admins advance notice of anniversaries and birthdays
Unusual Activity: Real-time notifications on activity that seems abnormal
By combining these four views into one analytics feature, Insights 2.0 gives company leadership greater visibility into key culture behaviors as well as the tools to improve performance management, reinforce goals, develop talent, and manage budgets to drive profitable business results.
"With this release, we wanted people analytics to be presented in an intuitive and an easy-to-consume way so managers, HR teams, employees and executives could easily leverage culture and engagement data to drive better decisions and improve the employee experience in real-time," said Autumn Manning, co-founder and CEO of YouEarnedIt. "By leveraging talent strategies, the launch of Insights 2.0 transforms HR into a strategic partner that delivers data-driven solutions to the business."
Engagement View
The Engagement view allows companies to identify their most engaged employees through a powerful scoring algorithm that adds a new element of gamification to the employee experience. With Engagement, employees, people managers, and platform administrators can all benefit from the unique data geared towards their specific roles:

Employees can compare their level of engagement with peers which encourages more active participation. Giving all employees access to how they measure against their peers on dynamic activities like sending recognition and passive behaviors like receiving praise, not only empowers employees, but encourages them to take a more active role in recognizing others.
People managers use Engagement to see the impact their direct reports are making on the company and how individuals are interacting with one another and across teams. They can also identify what motivates their direct reports in order to develop, coach, and hold teams – and themselves – accountable for business results.
Platform administrators can use Engagement to see which employees are demonstrating key behaviors, skills, and core values identified as top company priorities. Using these talent analytics, administrators can benchmark performance to help improve the company's overall engagement metrics.
Budget and Unusual Activity View
The Budget view enhances YouEarnedIt's existing reporting dashboard by providing detailed spending information to platform administrators and CFOs. Budget gives an end-to-end view of bottom-line metrics and offers predictability around the lifecycle of rewards like expiring points, spent points, and points sitting in redemption balance. In addition, Budget allows platform administrators and CFOs to review past quarter's spending activity to measure what was budgeted, what was actually spent on rewards, how many giving points expired, and total outstanding unredeemed points. Using the Budget view, administrators can make data-driven decisions to optimize their budget and rewards offerings by giving employees rewards they find valuable. The Unusual Activity view gives real-time notifications on abnormal or outlier activity like unusual point-sending or redemptions. Using this view, administrators are able to address potential issues in a timely manner before they become problems.
Milestones View
The Milestones view gives platform administrators and managers 14-days of advance notice for upcoming anniversaries and birthdays helping them create a positive employee experience.
Mobile App Updates
YouEarnedIt also upgraded its mobile apps for iOS and Android adding key functionalities allowing customers to bring the power of peer-to-peer recognition to everyone in the organization, whether they're in the office, traveling, or in the field.
YouEarnedIt is actively working to expand its platform functionalities to create the industry's most innovative technology for businesses to make a lasting impact on culture, employee engagement, and the employee experience. To learn more about YouEarnedIt, visit http://www.youearnedit.com.
About YouEarnedIt
YouEarnedIt is the employee experience platform powered by the science of motivation and the mission of improving the lives of employees everywhere, one company at a time. Founded in 2013, YouEarnedIt grows company culture and improves bottom-line performance metrics through its robust engagement platform that delivers recognition, rewards, incentives, and team insights. Named to Entrepreneur Magazine's list of Best Company Cultures in 2017, the Austin-based SaaS company and its technology platform are built on the four pillars of employee experience: connection, meaning, impact and appreciation. To request a demo, visit http://www.youearnedit.com/demo.