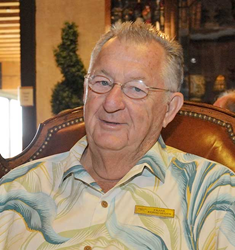 It seems like an appropriate time to shine the spotlight on the man who started it all
North Chicago, IL and Stuart, FL (PRWEB) September 15, 2017
Today marks the 80th birthday of Frank Konigseder Sr., the founder and President of Liberty Coach, the longtime leader in the Prevost motorcoach conversion field.
The company is marking the occasion with a special retrospective on the Liberty Coach website and social media. "It seems like an appropriate time to shine the spotlight on the man who started it all," says son Frank Konigseder Jr. "I can't think of anyone more deserving."
His point is well taken. Konigseder is a lifelong resident of Lake County, Illinois, the son of German immigrants who settled in the farmland near Libertyville in the early 1930s. His father started a business, F.K. Pattern & Foundry, in 1937, the same year Frank was born. Young Frank began working there at age 12 and since 1968 has headed the operation, now known as F.K. Foundries, at its original location in North Chicago.
Konigseder's role in the Liberty Coach story is a little more familiar. In 1968, he and his wife Jeanne started building coaches as a backyard hobby, converting used Greyhound buses one at a time. Their big break came a decade later, when Konigseder inked a deal with another family business, Prevost Car, and effectively launched the modern-day motorcoach conversion industry – an industry Liberty has dominated ever since.
Of course, he had more than a little help along the way, most notably from sons Frank Jr. and Kurt Konigseder. Like their father, both grew up immersed in the family business and in recent years, as managing partners, have taken Liberty to a point Frank Sr. frankly admits is "beyond anything I'd ever imagined."
At 80, the family patriarch shows no sign of slowing down. He still runs day-to-day operations at the Foundry and consults regularly with Frank Jr. and Kurt on Liberty business. He and Jeanne split their time between homes in Libertyville and Stuart and travel frequently, attending two off-site Liberty rallies each year and taking trips around the country and abroad. Ever the hobbyist, he has lately taken to buying and restoring antique tractors and has built up a collection of some 25 of them, which he keeps down in Florida. And he still finds time to engage his lifelong passion for outdoor activities: hunting, fishing, and of course, motorsports.
In short, Konigseder is making 80 look a lot more like 70, or 60, or even 50. "He certainly doesn't act his age," laughs Frank Jr. And all things considered, that just might be the best birthday present anyone could ask for.
With locations in Stuart, FL and North Chicago, IL, Liberty Coach has been providing legendary leadership in the luxury motor coach industry for over 40 years. For more information about Liberty's custom Prevost motor coaches, please visit http://www.libertycoach.com or call 800-554-9877.