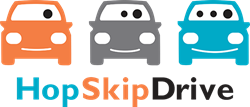 When we looked at the actual number of hours spent coordinating logistics and actual driving time, it is the equivalent of a second job."
Los Angeles, CA (PRWEB) September 19, 2017
HopSkipDrive, the safe and dependable ride service that helps parents get their kids where they need to go, today released its second annual survey on the State of Back to School Transportation in America. The survey, conducted through Google Surveys, reveals among 1,004 adults with children between the ages of 6 and 17, many parents struggle to manage their child's transportation logistics and coordination time alone can feel equivalent to a part-time job.
For many families, the school bus is not an option due to inaccessibility, budget cuts, or scheduling issues, and parents deserve to know their kids are being transported safely and securely. HopSkipDrive's CareDrivers are "caregivers on wheels" and provide safe and supervised transportation along with peace of mind for parents.
"Our second annual survey confirms yet again what we hear from our customers and experience ourselves as working parents; managing family transportation logistics consumes a great deal of time and creates tremendous stress for families. When we looked at the actual number of hours spent coordinating logistics and actual driving time, it is the equivalent of a second job," says Joanna McFarland, HopSkipDrive CEO and Co-Founder. "HopSkipDrive was created to solve this problem, reduce that time, and make life easier for families."
HopSkipDrive surveyed parents on the challenge of conflicting priorities, the stress of school and activity logistics, unreliability, convenience, loss of opportunities, and safety. These findings showed:
The hours spent on weekly child transportation logistics are the equivalent of a part-time job for many families.
Getting everyone in the family where they need to go is stressful. "Back to school" often means "back in the car." Parents spend so much time figuring out the logistics and doing the driving, it becomes a part-time job just to get everyone where they need to go.

38% of parents spend more than 5 hours a week driving their kids and a third of those spend more than 10 hours.
62% of parents manage the transportation logistics at least several times a week with almost 10% managing the logistics several times a day.
Child transportation logistics are a daily topic for 37% of families (sometimes more than once a day) and one in four families have these conversations several times a week.
87% of parents juggle coordinating the transportation schedules between them and their partner. Of these parents, 75% of them are women managing the transportation logistics in the household.
Back to school means back to stress, conflicting priorities, and job risk for working parents.
Being in multiple places at once is impossible, and working parents stress themselves out trying to manage it all.
2 out of 3 working parents say having to drive their kids somewhere disrupts their work on a regular basis. For 41% it's a daily or weekly disruption.
44% of parents are stressed out coordinating transportation at the beginning of the school year.
Of parents who reported spending 10 or more hours a week driving to and from school and/or extracurricular activities, 42% felt they have put their job at risk in order to meet their child's transportation needs.
24% of parents say their child is or may be missing out on important enrichment activities due to lack of reliable transportation.
"When it comes to their child's transportation needs, parents don't have many options," says McFarland. "Of the parents we surveyed, 48% were unaware that rideshare services like Uber and Lyft are not licensed to transport unaccompanied minors, even though it's against their policies. Safety is our number one priority for children and all CareDrivers must pass a highly selective 15-point driver certification that goes above and beyond industry standards, so you know your child is in safe hands."
HopSkipDrive is the trusted transportation solution that thousands of families rely on across Los Angeles, Orange County, and the San Francisco Bay Area. For more information or to book your back to school rides or carpools, visit http://www.hopskipdrive.com.
About HopSkipDrive:
HopSkipDrive is the safe and dependable ride service that helps parents get their kids where they need to go when they're not able to do so themselves. Founded by three working moms who understand the challenges busy families face, HopSkipDrive puts parents in control with notifications at pickup and drop off, personalized code words for pickups, monitored driver behavior and a live customer service team committed to getting kids to their destination safely and on time. All CareDrivers must pass a highly selective 15-point certification process that includes fingerprinting, extensive background checks, vehicle safety inspections by a licensed mechanic, ongoing DMV checks, driver training, an in-person meeting and membership on the TrustLine registry. HopSkipDrive is currently available in Los Angeles, Orange County and the San Francisco Bay Area and has raised over $14 million from FirstMark Capital, Upfront Ventures, Greycroft Partners, Pritzker Group Venture Capital, BBG Ventures and 1776. To learn more, visit http://www.hopskipdrive.com.