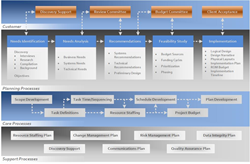 Sound processes and methods can help separate personalities and emotions from organizational interactions and dependencies.
San Diego, California (PRWEB) September 19, 2017
San Diego-based Education Technology Consulting firm Networld Solutions now offers a training program supporting communication and project management which may be the key to address dysfunction, poor communication and dissension within school districts.
"No matter how many issues a school's district office may be dealing with, the schools just keep teaching the kids..." This is a common quote from Darryl Vidal, Networld Solutions's Vice President and Sr. Education Technology Consultant. Schools are places of comfort, learning, safety and societal preparation, as they should be, but oftentimes communications between educators and staff in administration and the school's district leadership can be strained in an environment of jealously guarded protectorates, legacy operational processes and politically savvy opportunists all striving for the best for their school, students and community, but sometimes causing strife with district leadership.
Vidal states, "You wouldn't think there's so much intrigue and dissension at these institutions of education, but I'm always surprised to encounter the turf-wars, in-fighting and outright sabotage in some district offices. Sometimes I feel like I'm in the middle of an episode of Game of Thrones!"
Vidal notes that although teachers may be receiving the necessary technology, content and professional development they need to do their job, the staff and administration rarely have the planning methodology and project management training that can help structure and insure communication and direction at the departmental levels. Just like a patient fighting addiction, the first stage to recovery is recognizing there is a problem. Just ask your teachers and principals how they like the service of the district Information Technology (IT) department. Or vice versa.
Often there are conflicting efforts between departments - particularly IT and Education Services. These two departments' charters may evolve seemingly at odds. The IT department must support district-wide and classroom technology systems that are as big and complex as any medium- to large-sized corporation. Their security is just as important and complex as well. Academics however are focused on daily lesson plans, state standards and their students' collective welfare. They need technology systems that work when they need them, not a set of locked-down computers, and filtered Internet access that won't allow them to freely surf the web during classroom instruction. And therein lies the rub - freedom of will and instruction in the classroom - security, control and safety throughout the technology systems. School districts that have overcome these issues have IT and Ed Services leaders that work closely together, sometimes under the direction of a single Asst. Superintendent. Unifying these two departments can foster closer communication but project management methods can still help in quality and delivery success of projects and large-scale technology programs.
That's where MAPIT® Project Planning and Project Management methodologies are employed. Networld Solutions is now offering a training program of project planning and project management that supports interdepartmental communications through project management methodologies usually employed by Fortune 500 companies. In corporate environments there have been numerous programs such as Six Sigma, pioneered at General Electric, Total Quality Management (TQM), and ISO 9001, focused on organizational management and quality management through processes and methodologies.
Vidal states that MAPIT® processes and methods can benefit any education organization that seeks to improve communication between district office departments and their schools and are easy enough to learn to employ in just a few short trainings. By focusing on structure and methods, personalities and departmental idiosyncracies fall by the wayside. Their shared goals of efficient and effective instruction in the classroom rises to the top through use of project templates, communications and risk management plans.
The program is offered in three parts:
1 - MAPIT® Education Technology Strategic Planning
2 - MAPIT® Project Planning - Core Processes
3 - MAPIT® Project Planning - Support Processes.
Vidal is publishing a series of books outlining the methodologies and their use in the school environment. "FAIL TO PLAN, PLAN To FAIL - How to Create Your School's Education Technology Strategic Plan" is the first of the series and covers MAPIT® Education Technology Strategic Planning, was published in April 2017 by Rowman & Littlefield Education and is available on Amazon. The second in the series, with a working title of, "Technology Planning For Your School - Methods to Implement for Maximizing Success" will be published in early 2018 and will cover the MAPIT® Project Planning Core Processes and Support Processes (Sections 2 and 3).
School districts can have access to these training modules through Vidal's firm Networld Solutions, http://www.networldsolutions.com.