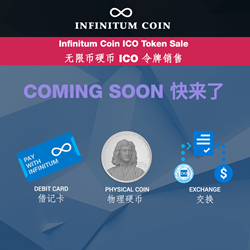 'We have been involved with bitcoin since 2015 and we feel we are ready to take the next step and launch a new cryptocurrency alongside a physical coin and debit card'.
Dubai (PRWEB) September 19, 2017
Infinitumbitcoins.com, makers of physical bitcoins, have announced their plans to launch an ICO Token sale.
The proposed ICO Token sale is for a new cryptocurrency called Infinitum Coin which will come with some unique options such as a physical coin made from 1oz of pure silver, a debit card for using infinitum coin and the infinitum coin cryptocurrency itself.
The debit card will allow users to convert their digital currency into traditional currency such as USD, Pound, Euro etc, allowing instant payments on the move with the use of a specially designed mobile app for topping up the debit card.
Alex Johns, sales director of Infinitumcoin.com, said, 'We have been involved with bitcoin since 2015 and we feel we are ready to take the next step and launch a new cryptocurrency alongside a physical coin and debit card'.
The ICO is not currently live and the website is coming soon. When asked about the website he said, 'The infinitumcoin.com website will be online this month, we are just making finishing touches'.
The proposed idea is to launch the token sale where each Token will later be converted into the infinitum coin cryptocurrency. During the ICO Token sale customers will receive Double Token Bonus which basically means it's a buy 1 get 1 free deal.
The delay in allocating Infinitum Coins is to simplify the process and allow users time to set up private wallets and allow the company time to create the digital coins needed to populate said wallets.
Alongside the digital currency sale there will be a physical coin option made with 1oz pure silver and will contain 1,000 infinitum coins.
Normally ICO'S are just a digital affair but infinitum is mixing the digital with the tangible world in the form of their coin and debit card.
Physical coins will be limited but no quantity has been assigned. Alec Johns said the company may stop selling the physical coin soon after the ICO has ended.
10 Billion coins will be available with 8 Billion being made available to the public. There is no proposed price per coin. Currently the market is anywhere between 0.10 cents to $1.
Alec Johns added, 'We plan to get the new coin listed on the popular crypto exchanges as soon as possible, we have already begun talks and many are waiting for us to launch and set the price'.
Physical Coin minting will begin this next month and the company plans to have thousands of physical coins ready for when the ICO begins. Johns said, 'We plan to send out physical coins within 48 hours from the ICO start date using FedEx as our international courier some customer will receive their silver coins before the digital infinitum coins go into their private wallets.'
This means that customers who join the ICO and choose a physical coin may receive their silver coins in a matter of days whilst the digital asset will follow soon after.
'Getting the coin listed on exchanges and the debit card is our focus, the funds generated from the ICO will be used in speeding up this process', Johns added
The exchanges play a huge part in allowing ICO customers to realise their potential gains. Infinitum coin is already in talks about being listed on as many exchanges as possible. According to Alec Johns, smaller exchanges are just as important as the bigger ones.
The company is planning on being on every possible exchange allowing ICO customers the widest range of exchanges and options.
During the ICO they will be accepting Bitcoin, Bitcoin Cash, Etherium, Litecoin, Ripple and Dash. A much wider choice then the usual ICO choice, which is just Ether.
The website http://www.infinitumcoin.com is due to be live end of September. Currently you can register for an email alert. Infinitum will inform you once the ICO site is live.