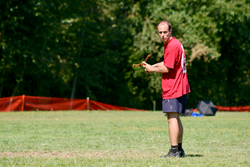 Power Boomerang Throwing at it's Best!
Besancon, France (PRWEB) September 20, 2017
One of the most important world records in the sport of boomerangs was smashed this past Saturday by World Champion thrower Manuel Schütz of Switzerland. Manuel Schütz scored 5 boomerang throws of 20 meters diameter with catches in 14.07 seconds for the Fast Catch Boomerang event". Originally set by 16 year old Adam Ruhf of the USA, the record withstood all challengers for 21 years and has been considered one of the great achievements of the sport. See more information and video of this Fast Catch boomerang competition at Boomerangs.com!
Manuel Schütz is a multiple winner of the world boomerang championships and a world record holder in 3 other boomerang events....including "Trick Catch Doubling" with over 5 consecutive perfect scores, Boomerang Endurance throwing with 81 throws and catches within 5 minutes, and a record which has not even remotely been challenged with a long distance throw of 238 Meters with a full return. He is also a math and physics teacher and member of the Swiss Boomerang Federation. He is known universally in the sport by the nickname "Manu", following in the tradition of great sports legends like "Pele" and "MJ".
As can be seen from watching the attached video, Fast Catch boomerangs are an exciting sport with the boomerang itself often reaching speeds in excess of 80 mph and making a 20 meter diameter return back at you! Competitors often wear a protective ski glove on one hand for the catch and it takes years of practise to usually become a top thrower.
Boomerangs are an emerging sport now active in most major countries around the world. Boomerang competitions are held yearly in countries such as Great Britain, France, Germany, Australia, United States, Japan, Brazil, Indonesia, Switzerland...etc. There is an all around world champion chosen every 2 years and boomerang teams from each country compete for the world boomerang team championships.
*** The sport of Boomerangs is governed by the International Federation of Boomerang Associations and this Fast Catch world record was just confirmed officially by the international body. Until confirmed this morning, Mr. Adam Ruhf still retained the record officially. Mr. Ruhf's world record time was 14.6 seconds.
Manuel Schütz is one of the great ambassadors of the sport and can be contacted at manuel1860(at)hotmail(dot)com.