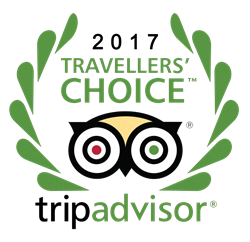 MEXICO D.F. (PRWEB) September 18, 2017
Interjet Airlines is excited to announce today that it has been named by TripAdvisor®, the world's largest travel site, as its 2017 Travelers' Choice winner for best airline in Mexico. The travel leader's highest honor focuses on the number of quality reviews and ratings submitted by the website's 390 million unique monthly visitors.
"This is a tremendous honor for the Interjet family, as we strive each day to provide world-class service for our passengers to and from Mexico and destinations like the United States, Canada, and Latin America," said José Luis Garza, Interjet's Chief Executive Officer. "We are grateful to the TripAdvisor community all over the world who have taken the time to rate our services so highly," Garza added.
TripAdvisor currently features more than 1,500 reviews for Interjet on its site with review titles such as, "Great choice of airline," "Impressed," and "Above the Rest." Passengers remarked on everything from Interjet's incredible affordability and customer service to its comfort and in-flight entertainment and food/beverage service.
"The airline industry is investing billions of dollars in new aircraft and service enhancements to differentiate the flying experience, and these awards recognize the carriers offering the very best experiences and value to the traveling public," said Bryan Saltzburg, senior vice president and general manager for TripAdvisor Flights, in a statement.
The 2017 Travelers' Choice awards listed 12 countries in all and divided the airline industry awards into four classifications including world, regions, countries, and class of service.
"When you look at some of the other airlines on these lists, like Qantas in Australia, Lufthansa in Germany, and Japan Airlines you can see just how prestigious this award is," said Garza. "These are national airlines – proudly carrying the flag – and have serviced hundreds of millions of passengers over decades."
Travelers can read millions of reviews and opinions and book their next trip at http://www.tripadvisor.com.
To learn more about Interjet's service or to make a reservation, visit http://www.interjet.com.
About TripAdvisor
TripAdvisor, the world's largest travel site, enables travelers to unleash the full potential of every trip. With more than 500 million reviews and opinions covering the world's largest selection of travel listings worldwide -- over 7 million accommodations, airlines, attractions, and restaurants -- TripAdvisor provides travelers with the wisdom of the crowds to help them decide where to stay, how to fly, what to do and where to eat. TripAdvisor also compares prices from more than 200 hotel booking sites so travelers can find the lowest price on the hotel that's right for them. TripAdvisor-branded sites are available in 49 markets, and are home to the world's largest travel community of 390 million average unique monthly visitors, all looking to get the most out of every trip.  TripAdvisor: Know better. Book better. Go better.
About Interjet
Interjet is an international airline based in Mexico City providing air service to 53 destinations in eight countries, including 36 cities in Mexico. Its network includes service to nine U.S. markets: Chicago, Dallas/Ft. Worth, Houston, Las Vegas, Los Angeles, Miami, New York, Orlando/Sanford and San Antonio. Other international routes include Montréal, Canada; Havana, Santa Clara and Varadero, Cuba; Bogota, Colombia; Guatemala City, Guatemala; Lima, Peru; and San Jose, Costa Rica. The airline operates a fleet of more than 70 aircraft including three AirbusA320neos, 45 Airbus A320s, three Airbus A321 and 22 Superjet 100s.