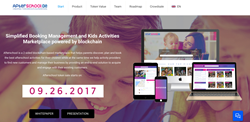 The launch of Afterschool token pushes us in realizing our vision of creating a global booking platform for parents, offering a hassle-free access to after school activities, schools and nurseries.
(PRWEB) September 19, 2017
Afterschool, a Dubai-based after-school activity marketplace takes a revolutionary leap as it launches its Initial Coin Offering (ICO) scheduled on September 26, 2017 to raise $1 million with the issuance of its own digital currency.
The offering, from which investors can purchase Afterschool Tokens (ASTs) with attractive investment returns will be used to fund expansion on a global scale, starting with key regions in the GCC and Southeast Asia and decentralizing its platform using ethereum blockchain technology.
Afterschool aims to provide a more efficient marketplace on what it says is a $22 billion industry in US alone. Afterschool allows parents to easily book after school activities using Afterschool Tokens as well as other cryptocurrencies, such as ETH, BTC and activity providers to accept the same.
By introducing the first decentralized booking platform, Afterschool also aims to incentivize both parents and providers through a reward system using Ethereum smart contracts, encouraging engagement and participation within the Afterschool platform.
The launch of Afterschool's own virtual token supports an existing operational platform with a solid business plan to utilize the fundraising proceeds from the ICO. Afterschool has more than 500+ activity providers, 25,000+ parents registered and has generated millions of dollars' worth of activity bookings.
"I'm excited to announce that Afterschool is the very first after school program platform to create its own digital currency," says Joanna Santillan, CEO and Founder of Afterschool. "In the future, we aim for the Afterschool token to become the go-to digital currency for the education industry as a whole."
Afterschool has set the total cap for AST tokens at 800 M. Base price is set at $0.05 and ICO will begin with a starting bonus of 60% and the price of ETH will be locked to the value of USD on the day of the launch.
Afterschool intends to use the proceeds of the ICO as follows:

60% for sales and marketing to drive expansion plans
30% for product development and maintenance
10% customer service
Funds raised during the ICO will be held in a multi-sig wallet controlled by the team council. Tokens allocated to the founders and team (15%), and investors (10%) will be reverse-vested for 24 months with monthly cliffs. The platform has set aside a portion of tokens (15%) for future partnerships as well.
To participate in the ICO, individuals can create a wallet on MyEtherWallet.com, Parity or Mist. Participants can purchase Ethereum (ETH) from various exchanges such as Coinbase or Bitsquare, or buy with other cryptocurrencies from platforms such as Bittrex and Poloniex.
Afterschool's ICO will start on September 26, 14:00 (UTC +4) and will continue for a month till October 26.
Learn more about Afterschool and its upcoming ICO at:
Website: https://tokensale.afterschool.ae.
Whitepaper: https://tokensale.afterschool.ae/wp-content/uploads/2017/09/afterschool-ico.pdf