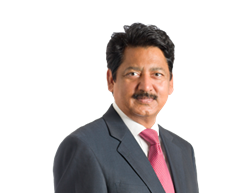 (PRWEB) September 27, 2017
Eye7 (http://www.eye7.in) is proud to announce that founder and director, Dr. Sanjay Chaudhary, will be receiving the "Highest Number of ICL Implanted in India" Award in October, at the WORLD ICL in Lisbon, Portugal. This award places Dr. Sanjay Chaudhary distinctly at the forefront of surgical advances in vision correction and eye care in India and around the world, as it recognizes Dr. Chaudhary for reaching 3,500 ICL implant surgeries – the most in India. For the past three years, Dr. Chaudhary and his firm have received this award, which marks Eye7 as being a top practice in the field of eye hospitals and vision correction.
With over 30 years of experience in eye care, and 12 years of implanting ICL's, Dr. Chaudhary has consistently remained a lead surgeon in the field of ophthalmology. He has a strong and consistent record of constantly seeking the most innovative forms of eye care, as he was one of the first surgeons to use LASIK in Delhi and was the first in Delhi to start femtosecond laser assisted cataract surgery (FLACS). Additionally, Dr. Chaudhary performed, for a live audience of more than 3,000 eye specialists, the very first live surgical demonstration of the femtosecond laser cataract surgery in India. These experiences have consistently pushed his practice to excel and to remain one of the premier eye care hospitals in India.
The type of surgery that Dr. Chaudhary and his team of expert eye specialists are renowned for is ICL, which stands for "Implantable Collamer Lens," or Phakic IOL's. The ICL is similar to a contact lens in some ways – it is a micro thin lens which is implanted over the natural lens within the eye, in order to correct the vision. However, unlike a contact which must be removed regularly after wear, the ICL remains in the eye permanently, and is a permanent solution for vision issues. ICL surgeries have become more popular in recent years, as they do not require creating a corneal flap and tissue remove, like in LASIK and other laser specs removal surgeries. Additionally, they do not have the side effect of intense dryness of the eye, an effect that can be found in the aftermath of laser eye surgeries, such as LASIK. Typically, the ICL surgery is a quick, 15-minute procedure, and will allow for most people to resume daily activities after just a few short days of rest. As an added benefit, UV protection is built into the ICL, thus providing an added layer of protection from the sun.
Eye7 and Dr. Sanjay Chaudhary are proud to receive this award, an award that they have received continuously for three years. Over the course of the past 30 years, Eye7 has performed over 100,000 successful lasik surgeries, with a team of 40 highly-trained surgeons. Eye7 performs multiple types of surgeries including those for specs removal such as Contoura Vision, Bladeless Femto Lasik, ICL, Laser Cataract Surgery, Glaucoma, Cornea, Retina, Squint and Oculoplasty. Patients travel from all over the world to receive treatment at this facility and Eye7 remains committed to providing the safest and best forms of eye care.
ABOUT EYE7
Eye7 Hospitals have been at the pinnacle of quality eye – care for over 30 years. The Eye7 chain has rapidly expanded over the years and has four specialist centers that are accessible in every corner of New Delhi. These centers offer cutting-edge facilities and services of skilled specialists and have a name that is renowned around the world. We at Eye7 recognize the uniquely important role the sense of vision plays in achieving a fulfilled life.