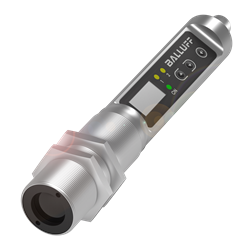 Florence, KY (PRWEB) September 18, 2017
When there is a need to detect objects with high temperatures during various processes in foundries, forging, steel plants, metal stamping, the ceramic industry or glassworks the new infrared temperature sensor from Balluff is the ideal solution. This sensor allows the non-contact monitoring of high temperatures in inaccessible or harsh environments.
Housed in a rugged M30 stainless steel housing with IP67 protection, this sensor features a multi-function display with auto-rotation. The intuitive menus aid in easy configuration and setup of the sensor. In addition, the optional IO-Link interface provides the ability to parameterize the sensor remotely with enhanced functionality to solve a wide variety of applications.
With plain text information, icons, and graphic live image, the multi-function display aids in quick and easy setup. In addition, the sensor offers the ability to teach the emission coefficient of the target onsite for accurate temperature sensing. With a wide variety of accessories, the infrared temperature sensor can solve and withstand some of the harshest automation applications. Balluff's attention to quality, superior sensor design and performance means better reliability, less down time and higher productivity.
Features of Balluff's BTS temperature sensor include:

Temperature range 250…1250 °C (482...2282 °F)
Reliably detects moving objects
IO-Link interface provides additional functionalities
Available with 4...20 mA interface or discrete setpoints
For more information, visit http://www.balluff.com/local/us/news/product-news/infrared-temperature-sensor-with-io-link/
About Balluff Inc.: Balluff Inc., the U.S. subsidiary of Balluff GmbH, Neuhausen, Germany, is a leading manufacturer of a wide range of inductive, photoelectric, vision, capacitive and magnetic sensors as well as linear position transducers, RFID systems, and networking products. Balluff products for OEM and factory floor solutions are used to control, regulate, automate, assemble, position, and monitor manufacturing, assembly, and packaging sequences for industries including: metalworking, automotive, plastics, material handling, wood processing, aerospace, alternative energy, medical, electrical, and electronics.