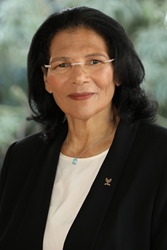 Even just one motivated, courageous and passionate person can truly help change the world.
Los Angeles, CA (PRWEB) September 19, 2017
DeFrantz is a trail-blazing lifelong advocate for the rights of athletes, women and minorities. Named by Sports Illustrated as one of the "Most Influential Minorities in Sports" and by Newsweek as one of the "150 Women Who Shake the World," DeFrantz continues her winning streak with her election on September 15 to a Vice Presidency of the Executive Board with the prestigious International Olympic Committee (IOC), the worldwide governing board for the Olympic Games.
She has a long history with the Olympics. In 1976, she captained the first US Women's Olympic rowing team to take the bronze. She has served on the board of the IOC in various capacities since 1986. Anita L. DeFrantz is an attorney and spends her time serving on selected boards including LA28.org, which organizes the Olympic games for Los Angeles and will preside over those just announced in 2028. DeFrantz also delivers inspiring speeches worldwide and serves on nonprofit and for-profit boards.
Her new book – part autobiography, part passionate call to reform My Olympic Life: A Memoir is available on Amazon.com. It is the exciting story of DeFrantz' unwavering leadership and the ripple effect of her influence in Olympic circles to fight sexual harassment and racism; grow women's presence in Olympic sports; influence new eligibility requirements; change outdated gender verification rules; and much more. In her book, she boldly explores even hot-button Olympic issues like doping and political scandals. In her reprisal now serving her second term as a Vice President of the IOC, she will continue a lifetime of advocacy for parity for all.
DeFrantz, raised in an Indiana activist family, in a time of explicit racism, sets the example that proves her mission: Even just one motivated, courageous, and passionate person can truly help change to the world.