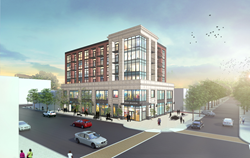 We are thrilled to be opening this new boutique building in the epicenter of the dynamic H Street Corridor, and look forward to providing the highest level of quality for our residents
Washington, DC (PRWEB) October 12, 2017
The newest addition to the H Street corridor is nearly complete. 501 H Street is a unique approach to boutique residential high-rise living.
Managed by Borger Management, the building is perfectly located at the epicenter of a growing and bustling neighborhood. Pre-leasing now, the 28 sleek residences boast LEED Gold apartment homes featuring rich granite countertops, mosaic glass and stone backsplashes, hard surface plank flooring, Italian cabinetry, USB outlets, all with outdoor patio or terrace space. The apartments will also have spectacular views of either the Basilica, the dynamic H Street corridor, or the Capitol Building.
501 H Street offers easy access to Whole Foods and Giant, which are only a few steps away. Exploring the metropolitan area will be easy via public transportation and with the use of the docked Zip Car on site for the residents' use.
"We are thrilled to be opening this new boutique building in the epicenter of the dynamic H Street Corridor, and look forward to providing the highest level of quality for our residents," said Jessica L. Murphy, Regional Manager.
Celebrating more than 85 years of management excellence, Borger Management, Inc. is a leader in the DC Metropolitan Area real estate industry with over 9,000 multi-family housing.