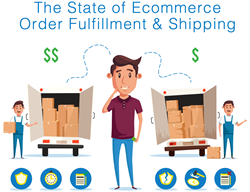 The Amazon effect is growing. The problem is, it's not realistic for most online sellers.
Traverse City, Michigan (PRWEB) September 20, 2017
Today's online shoppers expect delivery speeds and costs that most retailers cannot deliver on.
This was a key finding of a new report released by eFulfillment Service, one of the nation's leading ecommerce order fulfillment companies.
The report, titled The State of Ecommerce Order Fulfillment & Shipping, combines findings from recent studies as well as survey results of online merchants serviced by eFulfillment Service.
"It's tough out there for online retailers," explains Steve Bulger, VP of Sales, Marketing & Customer Service at eFulfillment Service. "We service hundreds of online merchants, and, in surveying them, we found that many are struggling to satisfy customers that want extremely fast delivery for little to no cost."
eFulfillment Service's report looks at how consumers are spending money online, including their behavior on marketplaces vs. retailer websites, and also covers "The Amazon effect," a commonly-used term for increasingly-demanding consumer expectations centered around rapid, low-cost ecommerce order fulfillment.
"The Amazon effect is growing," continues Bulger. "The problem is, it's not realistic for most online sellers. Amazon lost over $7 billion in shipping last year, which means it's unlikely that even Amazon can continue to meet the expectation they've created without the emergence of new technologies to lower their delivery costs."
The report from eFulfillment Service also identifies key areas in which online retailers are falling short from a delivery standpoint, and provides data on how online sellers can lower their order fulfillment costs while setting themselves up for long-term success.
"It's going to be very interesting to see how things shake out over the next 10 to 15 years," adds Bulger. "I don't see consumer expectations becoming any less demanding, so we're going to see a lot more innovation centered around the last mile of delivery. In the meantime, merchants should put themselves in the best position they can from an order fulfillment standpoint, and continue to differentiate their brand and products. After all, if what they get from your company is unique, then consumers will always be willing to pay more."
About eFulfillment Service
eFulfillment Service (EFS) is an established, award-winning leader in ecommerce order fulfillment. Every day, hundreds of merchants around the world depend on EFS for fast, simple, affordable service. With high-touch service, first-rate technology, and friendly, straightforward terms that include no minimums, no setup fees and no long-term contracts, it's clear why eFulfillment Service has become one of the most trusted and respected names in order fulfillment. For more information, please visit http://www.eFulfillmentService.com.