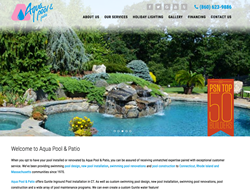 (PRWEB) September 20, 2017
Aqua Pools and Patios of Connecticut has unveiled a new highly visual, responsive design based website, https://aquapool.com, in partnership with Lighthouse Media Solutions of Hyannis, MA.
"Our old website, although functional, was simply looking outdated and our product requires a positive viewing experience so constant updates to the site are always required for that fresh, engaging and educational experience," said Michael Giannamore, owner and president of Aqua Pools and Patio. "It was simply time to update our site and we thought worth the investment."
David Jensen, COO of digital at Lighthouse Media Solutions, said the new site provides viewers with a deep library of inspirational inground pool photography as well as comprehensive information about gunite, in-ground design and installation.
"When a consumer searches for a 'pool installer near me' we wanted to build a site that provides consumers with inspiration AND information," Jensen said. "Aqua Pool and Patio is Connecticut, Massachusetts and Rhode Island's best gunite inground pool designer and installer and it is our hope that the site exemplifies their commitment to quality and craftsmanship."
Giannamore said he is very pleased with the response so far, and has received many positive comments. He said the new site has more than met Aqua Pool and Patio's marketing objectives.
"Our new look and feel has garnered lots of good feedback on the new look and feel," Giannamore said. "The ease of working with Lighthouse has been a huge improvement over the previous company."
His advice to others thinking about a website redesign:
Take your time
Choose the appropriate time of year to do the redesign (not your peak business season)
Make sure there is a confidence level with those entrusted to develop your site
About Lighthouse Media Solutions
Lighthouse Media Solutions is a digital multi-media company, specializing in strategic branding, custom marketing and content marketing services. Lighthouse builds brands, establishes digital footprints and develops lead generation strategies. From web dev, video production to publishing