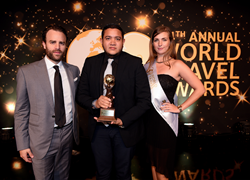 Cancún, Quintana Roo (PRWEB) September 19, 2017
For the second consecutive year Hacienda Tres Ríos received the Best Family Resort in Mexico & Central America Award presented by the World Travel Awards (WTA) in the Riviera Maya. The World Travel Awards is an organization established in 1993 to recognize, award and celebrate excellence in all sectors of the travel and tourism industry.
In the last eight years Hacienda Tres Ríos has received nine awards from the WTA. The awards are based on voting from tourism professionals all over the world focusing on quality of services, facilities and resort operations. When presenting the award, Sion Rapson, Vice President of the World Travel Awards, congratulated Hacienda Tres Ríos for the work, dedication, initiative, investment and contribution to the continued success of the destination.
"Hacienda Tres Ríos Resort, Spa & Nature Park takes care of all details so that families can simple relax and have a memorable vacation and the experience of a lifetime," said Annie Arroyo, Director of Branding & Communication for Sunset World, the hospitality company that Hacienda Tres Ríos belongs to.
Destinations in the Caribbean with its large variety of hotels, parks, attractions and convention centers dominated the World Travel Awards this year, receiving more than 40 nominations and 25 awards in the Mexico, and Mexico & Central America categories.
Located in the 326-acre Tres Rios Nature Park in the Riviera Maya, Hacienda Tres Ríos is a sustainable, all-inclusive, luxury resort that opened its doors in the fall of 2008 and is home to 273 suites. As a leader in ecotourism, the resort provides amazing experiences without damaging the natural and cultural treasures in the area. Here, México's past and present unite and traditional Mexican hospitality converges with modern facilities to create truly unique experiences. Hacienda Tres Ríos is located only 45 minutes south of Cancun International Airport and 15 minutes from Playa del Carmen.