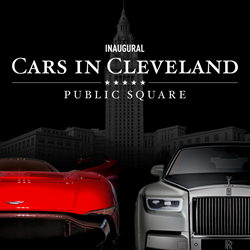 Cars in Cleveland will give Northeast Ohio a chance to admire the most dazzling rides in the world, up close.
Cleveland, OH (PRWEB) September 18, 2017
Cars in Cleveland - an open to the public event - will draw tens of thousands of visitors to the center of downtown. The free event will feature live music, activities, food and drink, and $30 million dollars in amazing vehicles, including:

Cars from LeBron James' private collection.
Bernie Moreno's $2.5 million Aston Martin Vulcan (one of only two dozen in existence).
Rare vehicles from Western Reserve Historical Society's Crawford Collection.
Other luxury models such as Bentley, Bugatti, Ferrari, Maserati, McLaren, Porsche, Rolls Royce, and many more.
Charity Beneficiary:

LeBron James Family Foundation
AllianceBernstein - (Collectors Club Sponsor)
Marshall Goldman Motor Sales -(Exotic Specialist)
WKYC Channel 3 - Cleveland - (Media Sponsor)
Suburban Collision Centers - (Platinum Best of Best Sponsor)
Sky Quest LLC - (Best of Best Sponsor)
Fifth Third Bank - (Best of Best Sponsor)
Empire Dealer Services - (Food Truck Alley Sponsor)
Cleveland Auto Show - (Plaque Sponsor)
Force Marketing - (Contest Sponsor)
Dealer Inspire - (Lanyard Sponsor)
No Drone flying allowed over Public Square
"Clevelanders usually don't get to see these kinds of vehicles around town," Moreno said. "Cars in Cleveland will give Northeast Ohio a chance to admire the most dazzling rides in the world, up close."
Moreno sees the event becoming an annual late-summer tradition on Public Square.
"The center of downtown is really the perfect setting for Cars in Cleveland," he said. "The beautifully renovated space reflects Cleveland's rebirth without forgetting our rust-belt roots and pride.
"Cleveland used to be famous for its 'Millionaires' Row,'" he added. "If John D. Rockefeller were alive today, he'd be bringing his exotic cars to Public Square on October 7th."
For more details on Cars in Cleveland, visit https://www.berniemoreno.com/carsincleveland/.
What: Bernie Moreno Companies' first annual Cars in Cleveland event.
When: 11 a.m. to 3 p.m., Saturday, October 7, 2017.
Where: Public Square, Downtown Cleveland.
Who: Everyone. Cars in Cleveland is open to the public.
For more information or to set up an interview with Bernie Moreno, contact Ralph Stawicki, Director of Marketing, at 440-567-9144.
In 2005, Bernie Moreno purchased a small, underperforming Mercedes-Benz dealership on the west side of Cleveland, turning it into Mercedes-Benz of North Olmsted, the flagship dealership of his organization. After just one year, that dealership earned a coveted "Best of the Best" award from Mercedes-Benz and would go on to win the award for 10 consecutive years, something no other Mercedes-Benz dealer has ever done. In the meantime, Bernie Moreno Companies has become one of the fastest growing and most admired auto-dealership organizations in the country, earning awards for its growth, client service, community involvement and employee engagement.