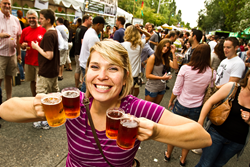 Seattle, WA (PRWEB) September 19, 2017
Hailed as one of the "Top 10 Places to Celebrate Oktoberfest," the 21st Annual Fremont Oktoberfest is taking over two city blocks of Seattle's Fremont neighborhood, widely known as the "Center of the Brewniverse," September 22-24. While drawing from the original Munich Oktoberfest, in true Fremont fashion, Seattle's Fall Tradition puts its own unique "delibertas quirkas" (freedom to be peculiar) twist on tradition.
Fremont Oktoberfest allows revelers to sample from 100 beer taps from 50 different breweries in a 5 oz mini-mug. Plus, in a nod to tradition, revelers may hoist full liter steins (and boots!) in the Buxom Beer Garden. Dirndls and Lederhosen are not required but encouraged. New this year is an indoor, 10,000 square foot beer hall and sports bar with jumbo screens to watch all of the local games throughout the weekend.
Much like the original Oktoberfest in Munich, beer isn't the only attraction at Fremont Oktoberfest. Festivalgoers are offered a chance to show off both beauty and brawn. Fremont Royalty is uncovered in the infamous Miss Buxom Contest, taking place Friday at 8 pm, pitting ladies against each other to show off their "vast" Oktoberfest knowledge and "impressive" yodels. The Stein Hoisting Competition, happening at 6:30 pm on both Friday and Saturday, helps revelers show off the work they've been putting in the gym as they see who can hold up a full stein the longest.
Fremont Oktoberfest expands just a little bit more on Sunday, as children and pooches are allowed to join their parents in the gated area. The family-friendly Sunday Funday entertainment features the infamous Texas Chainsaw Pumpkin Carving Contest, the CityDog Cover Dog Model Contest, root beer sampling, bouncy toys, and kids arts and crafts such as the Zucchini 500 and pumpkin decorating.
Tickets for Fremont Oktoberfest are on sale now at http://fremontoktoberfest.com.
------
Fremont Oktoberfest is a benefit for the Fremont Chamber of Commerce, funding local schools, art groups, community events, and promoting Fremont as the "Center of the Universe." Visit http://www.fremont.com.