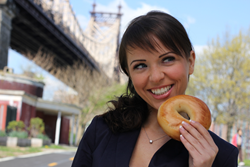 Bagels are my life and the whole country will love them too.
Queens, NY (PRWEB) September 19, 2017
After baking for top restaurants, hotels, cafes and delis in the tri-state NY area for over 30 years, New Yorker Bagels – the world's largest baker of fresh bagels – is proud to introduce overnight shipping of their hand-rolled bagels throughout the Continental United States.
"Many people who don't live around New York City have never had a real New York City Bagel," says company co-founder, George Menegatos. "Others who left the city for work or family reasons write and tell us how much they miss their New York bagels. We've launched with overnight shipping only, because we think everyone deserves a fresh New York Bagel."
After some deliberation, management decided to offer only their highest quality bagels – this means all flavors are hand-rolled by skilled rollers in their Astoria, NY bakery. The facility operates 24 hours a day, 7 days a week to keep up with demand. To date, New Yorker Bagels has baked over 1.5 billion fresh bagels.
Besides traditional bagel favorites, such as plain, sesame, poppy and everything, New Yorker has pioneered a number of unique bagel flavors, such as Jalapeño Pepper, Apple Pie and the new Marble Rye, named in homage of a famous "Seinfeld" episode. The company also offers innovative healthful options including Quinoa Multigrain, Whole Wheat Everything and their top-selling Cranberry Energy bagel. All flavors are all-natural and have no preservatives of any kind.
For national customers taking advantage of free overnight shipping on their new website, bagels should be enjoyed within 1-2 days, or frozen to be enjoyed later. "Fresh bagels freeze wonderfully, and can be easily thawed on the counter," says George. Customers can select between curated assortments each named for a famous New York City Subway line, or build their own assortment of three flavors.
For true bagel devotees, the company also launched NYC Bagel Club, allowing customers to create an automated, subscription-style service to get their New York City bagels on a weekly or monthly basis. "Join this club," continues George, "Bagels are my life and the whole country will love them too. Love them. I am sure!"