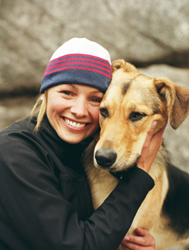 (PRWEB) September 19, 2017
Two worthy students received a financial boost to help pay their college tuition, courtesy of academic scholarships from Healthy Paws Pet Insurance – the #1 customer-rated provider of insurance for dogs and cats.
"By supporting students who pursue education that helps animals, we effectively keep our promise to pet parents that we believe in a better life for all pets," says Rob Jackson, co-founder and CEO of Healthy Paws Pet Insurance. "Choosing only two recipients among so many gifted advocates and scholars was not an easy task, but we're confident these two exemplary students share our mission and will shine next semester."
The Animal Advocate Scholarship is designated for a student with significant volunteer experience enrolled in an accredited institution in the United States, and the Veterinary Student Scholarship is designated for a student enrolled in an accredited vet medicine program in the United States. Recipients are chosen based on educational merits and extracurricular dedication to improving animal welfare.
Fall 2017 Recipients
Mallory Stuckwisch, Animal Advocate Scholarship recipient, is currently enrolled in the Doctor of Veterinary Medicine program at Purdue University in West Lafayette, Indiana. She's an empathetic and active advocate for support animals and the human-animal bond that can help the community. Her goal is to continue her studies in Veterinary Social Work after her doctorate in Veterinary Medicine.
"With pets being such a staple of families, it is my passion to help foster a healthy human-animal bond. This calls for a willingness to advocate on behalf of the animals we love as well as attentiveness to both ends of the leash," Ms. Stuckwisch explains. "Through this scholarship, Healthy Paws is enabling me to pursue an education that will prepare me to explore the complexities of our relationships with animals and ultimately be a champion for animal welfare."
Julianna Scardina, Veterinary Student Scholarship recipient, is enrolled in the veterinary technology program at Baltimore Polytechnic Institute. An active volunteer at the Baltimore Animal Rescue and Care Shelter, Ms. Scardina has seen first hand how animals benefit from human intervention, kindness and assistance.
"As the first person in my family to go to college and as a student who has to work while studying full-time, this scholarship means so much to me," Ms. Scardina says. "Pursuing a career in veterinary medicine will allow me to spend the rest of my life doing something that I love. This scholarship will allow me to spend less time working and spend more time focusing on my education, bringing me one step closer to being able to afford veterinary school!"
Healthy Paws is now accepting scholarship applications for the Spring 2018 semester. The application deadline is October 31, 2017. Applications can be submitted online at https://www.healthypawspetinsurance.com/academic-scholarships.
About Healthy Paws Pet Insurance®
Healthy Paws is one of the leading pet insurance program providers in the U.S. for dogs and cats and ranked #1 by customers on leading review websites. Its insurance policies are provided by Chubb, whose U.S. carriers are rated A++ by A.M. Best. The Healthy Paws Foundation, a 501(c)(3) non-profit organization, provides cash grants to pet adoption organizations specifically for life-saving vaccines, spay/neuter surgeries and advanced medical treatments of homeless pets in their care. Learn more about their mission to save more homeless pets and how you can help. For more information about Healthy Paws Pet Insurance, visit https://www.healthypawspetinsurance.com/.