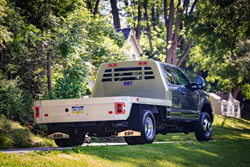 Blue Ball, PA (PRWEB) September 19, 2017
"Customers use our flatbeds for a wide variety of jobs," said Travis Eby, President of M.H. Eby. "Craftsmen, tradesmen, farmers, ranchers -- anyone who works a truck hard and wants to reduce body weight without compromising integrity and strength is our customer," he continued. "This flatbed provides the utility and dependability of our previous models and adds new features as standard equipment."
It looks fantastic, too. Working with Peterson Manufacturing, Eby designed unique LED lights and lenses for the new model, including combo tail-lights set in wrap-around corner castings. High-mount lights in the bulk-head include scene lights for night work and new styling notes such as the lighted band around the perimeter of the lamp assembly. The rear buck plate extrusion is dramatically wider and the bumper now includes integrated steps for easy access to the deck.
"We tapped into technology from all over the U.S.A. to build Big Country," noted Nick Eby, VP of Engineering. "We started with design creativity and know-how from our corporate team in Pennsylvania. We added aluminum from Ohio, castings from Indiana, and lighting systems from Missouri. Our technicians build it in Lancaster County and we ship it to trusted partners all over the country for final installation."
Like previous Eby flatbeds, Big Country includes an aluminum diamond-plate deck, an all-aluminum sub-structure, a trap door for a gooseneck hitch, and a bumper with a receiver rated for 20,000 lbs. as standard.
"Those features are part of our heritage - part of the product's DNA," said Charlie Horton, VP of Sales and Marketing. "And while most customers tow with this body, it does a lot more than just that. Getting materials to the job, products to market, and equipment to the work site, this is the kind of all-purpose tool that is so versatile and so reliable that it has been the go-to choice for years. And we just made it even better."
M.H. Eby is a family owned company proudly serving commercial, agricultural, and industrial customers since 1938. Our craftsmen manufacture and service high quality, long lasting aluminum truck bodies and trailers from 4 plants and 6 service centers in PA, OH, IN, IA, and SD. Our headquarters are at 1194 Main Street, Blue Ball, PA 17506.
Call 800-292-4752 or visit our web site at http://www.mheby.com. Thank you for your business!